National Assembly of the Republic of Serbia / Activities / Activity details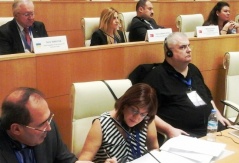 4 December 2017 European Integration Committee Chairman Nenad Canak at the international parliamentary conference in Tbilisi
Monday, 4 December 2017
European Integration Committee Chairman at International Parliamentary Conference "EU and Partners – Embracing Diversity for Stronger Unity"
The Chairman of the European Integration Committee Nenad Canak is taking part in the international parliamentary conference "EU and Partners – Embracing Diversity for Stronger Unity" on 4-5 December in Tbilisi, Georgia.
---
The conference is attended by representatives from most Western Balkan countries, countries of the Caucasus region, European Parliament, European Commission, civil sector and public experts.

The conference tackles European integration as a driving force for consolidating democracy and prosperity, challenges of implementing EU-driven legislative agenda, managing citizen expectations and countering anti-western propaganda and the future of the EU.


---
---
tuesday, 16 august
12.00 - press conference of MP Srdjan Milivojevic (National Assembly House, 13 Nikola Pasic Square, Central Hall)