National Assembly of the Republic of Serbia / Activities / Activity details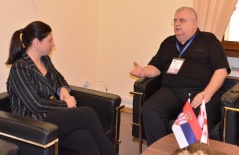 6 December 2017 The Chairman of the European Integration Committee in meeting with the Chairperson of the Georgian Parliament's Foreign Relations Committee
Thursday, 7 December 2017
European Integration Committee Chairman Talks to Georgian Parliament's Foreign Relations Committee Chairperson
At the margins of the international parliamentary conference "EU and Partners – Embracing Diversity for Stronger Unity" in Tbilisi, Georgia, the Chairman of the European Integration Committee Nenad Canak met with the Chairperson of the Georgian Parliament's Foreign Relations Committee Sofio Katsarava. Canak started off by stressing Serbia's resolve to join the European Union.
---
The officials mentioned that the European Union currently has a lot of internal problems and opined that it might be a good idea for the countries undergoing the process of integration to broach issues of mutual importance together in Brussels and involve their friends in the European Union in seeking adequate solutions. They concluded that a forcible alteration of state borders is unacceptable. Finally, they suggested that their respective committees should continue to cooperate both on the two countries' European integration processes and on other issues as well.
On the second day of the conference the participants continued to discuss the development of relations between the European Union and its partners, the accompanying problems and the future of the European Union itself.


---
---
friday, 28 january
13.00 - meeting of the Inter-Party Dialogue Control Body (National Assembly House, 13 Nikola Pasic Square, hall 1)

17.00 - National Assembly Speaker Ivica Dacic meets with Inter-Party Dialogue co-facilitators (National Assembly House, 13 Nikola Pasic Square, hall 1)