National Assembly of the Republic of Serbia / Activities / Activity details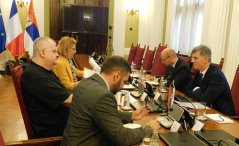 13 June 2019 The Chairman of the European Integration Committee in meeting with the French parliamentary delegation
Friday, 14 June 2019
European Integration Committee Chairman Meets with French Parliamentary Delegation
The Chairman of the European Integration Committee Nenad Canak met with the French parliamentary delegation headed by Vice-Chair of the Committee on Foreign Affairs Jacques Maire, at the National Assembly, to discuss Serbia's progress in the European integration process and the importance of integrating the Western Balkans into the European Union.
---
Nenad Canak said that majority of the MPs support European integration, but the EU's internal problems and its uncertainty as regards enlargement make it possible for the Euro-sceptics in Serbia to claim that the EU is a failed project.
The officials agreed that the integration of the Western Balkans is vital because it would pacify and resolve all the outstanding issues existing among the countries in the region. Jacques Maire said it is important that Serbia remains committed to the European integration and reform process.


---
---
friday, 21 january
13.00 - meeting of the Inter-Party Dialogue Control Body (National Assembly House, 13 Nikola Pasic Square, hall 1)