National Assembly of the Republic of Serbia / Activities / Activity details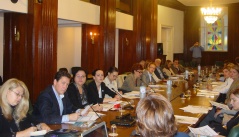 19 September 2013 Participants of the Green Building Forum
Thursday, 19 September 2013
Environmental Protection Committee Members Take Part in Green Building Forum
Environmental Protection Committee members Gordana Comic, Dr Aleksandra Tomic and Ivan Karic took part in the Green Building Forum held at the National Assembly on the occasion of the International Green Building Week.
---
Opening the Forum, MP Ivan Karic emphasised the importance of green building for environmental protection and its potential for sustainable economic development.
The Serbian Green Building Council was also presented at the Forum, as were the advantages and potentials of green building and national and foreign green building practice.
The Committee members focused on the role the National Assembly and the competent Environmental Protection Committee and Committee on the Economy, Regional Development, Trade, Tourism and Energy play in stimulating and developing green building in Serbia by passing the necessary legislation, organising public hearings and allowing representatives of associations involved in green building to attend their sittings.
In addition to the MPs, the Forum was attended by representatives of local self-governments, public enterprises and companies and associations dealing with green building.

---
---