National Assembly of the Republic of Serbia / Activities / Activity details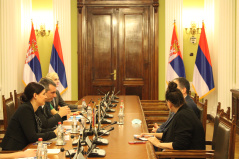 17 November 2022 The National Assembly Speaker in meeting with the Israeli Ambassador to Serbia
Thursday, 17 November 2022
Dr Orlic with Israeli Ambassador: Pristina's Goal is to Expel Serbian People from Kosovo - We Will Not Allow That
The Speaker of the National Assembly of the Republic of Serbia Dr Vladimir Orlic met today with the Israeli Ambassador to Serbia H.E. Yahel Vilan.
---
Dr Orlic pointed out that the two peoples are bound by a common history and common suffering. "The fact that the President of the Republic of Serbia Aleksandar Vucic is the only president who marked the 75th anniversary of the liberation of the Nazi concentration camp Auschwitz by raising a yellow flag with a Star of David on the building of the Presidency of Serbia speaks volumes about our relationship", said Dr Orlic, adding that President Vucic is personally committed to the construction of "Staro Sajmiste" memorial complex. "Our Parliament also contributes to the relations between the two nations and we unanimously adopted the Law on remedying the consequences of the seizure of assets of Holocaust victims with no living legal heirs", said Dr Orlic.
The officials agreed that strengthening economic cooperation gives a strong impetus to the further improvement of relations between the two countries and that the volume of exchange is exhibiting a growing trend. Ambassador Vilan praised the economic policy implemented by President Vucic, saying that representatives of Israeli companies are satisfied with the business conditions in Serbia and expressing his willingness to personally engage in bringing new companies.
Dr Orlic informed Ambassador Vilan about the difficult challenges faced by Serbs in Kosovo-Metohija. "Political representatives of the Serbian people have decided to withdraw from the provisional institutions of local self-government in Pristina, precisely because our people are under pressure and terror from Albin Kurti. The Brussels Agreement is not just violated, it is openly trampled underfoot, the Serbian people are threatened with fines, confiscation of license plates and seizure of private property, along with daily physical attacks which numbered in the thousands in previous years. The irrational behaviour and open trampling of international law by Pristina puts us in a difficult position, but despite all of this, official Belgrade, led in the dialogue by President Vucic, is trying to preserve stability and peace for everyone. And it is always Pristina that tries to provoke a conflict, the goal of which is to completely expel the Serbian people from the territory of Kosovo-Metohija.
Speaking about interparliamentary cooperation, the officials expressed their belief that the good communication, already existing between two assemblies' different bodies, would continue in the future, especially after the formation of parliamentary friendship groups.
---
Photo gallery
---
---
sunday, 4 december
10.00 - sitting of the Committee on Education, Science, Technological Development and the Information Society (National Assembly House, 13 Nikola Pasic Square, hall 3)

12.00 - sitting of the Committee on Finance, State Budget and Control of Public Spending (National Assembly House, 13 Nikola Pasic Square, Small Hall)