National Assembly of the Republic of Serbia / Activities / Activity details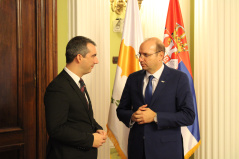 29 November 2022 The National Assembly Speaker with the Cypriot Minister of Defence
Tuesday, 29 November 2022
Dr Orlic with Cypriot Minister of Defence: We Continue to Defend International Law
The Speaker of the National Assembly of the Republic of Serbia Dr Vladimir Orlic met today with the Minister of Defence of the Republic of Cyprus, H.E. Charalambos Petrides. The officials jointly noted their readiness to make the good political relations the basis for additional improvement of cooperation between Serbia and Cyprus in all segments, primarily the economy, defence and military-economic sphere.
---
In the course of the meeting, the officials confirmed the excellent bilateral relations between the two countries, based on mutual trust and historically proven closeness of the two peoples, also expressing their commitment to further strengthen parliamentary cooperation primarily through the work of the Parliamentary Friendship Group with the Republic of Cyprus, once again traditionally formed in the currently XIII legislature of the National Assembly of the Republic of Serbia. Biljana Pantic Pilja, Head of the PFG with Cyprus, also attended the meeting.
The National Assembly Speaker stressed how deeply he appreciated Cyprus' principled position of non-recognition of so-called "Kosovo" and continued support for the territorial integrity and sovereignty of the Republic of Serbia. He informed Minister Petrides about the difficult situation in Kosovo-Metohija and Pristina's moves aimed at the physical elimination of Serbs from the territory of Kosovo-Metohija. "In these almost impossible conditions, we are trying to maintain dialogue, and it is completely clear that Aleksandar Vucic is the one who is preserving peace and stability for everyone, while Albin Kurti provokes escalations and terrorises the Serbian people," said Dr Orlic, reminding the guest that the formation of the Community of Serb Municipalities, Pristina's fundamental obligation from the Brussels Agreement, has been ignored for almost a decade.
Minister Petrides said that Cyprus stands firmly by its decision not to recognise so-called "Kosovo" and will remain consistent in this matter in the future. "There is no doubt who provokes and does not respect the agreements in the dialogue process, and who is constructive and committed to peace - we heard this clearly from Josep Borrell. Given the situation and the generally difficult challenges the world is facing, our countries must continue to cooperate and remain united in insisting that the same principles apply to everyone and that international law must be respected everywhere in the world," said Minister Petrides.
---
Photo gallery
---
---
wednesday, 8 february
10.00 - continuation of the First Extraordinary Session of the National Assembly of the Republic of Serbia, 13th Legislature (National Assembly House, 13 Nikola Pasic Square)

11.00 - the Head of the PFG with Saudi Arabia meets with the Ambassador of the Kingdom of Saudi Arabia to Serbia (National Assembly House, 13 Nikola Pasic Square, hall 2)

11.00 - press conference of MP Borko Puskic (National Assembly House, 13 Nikola Pasic Square, Central Hall)

11.00 - sitting of the Committee on Administrative, Budgetary, Mandate and Immunity Issues (National Assembly House, 13 Nikola Pasic Square, hall 3)

13.00 - the members of the PFG with Algeria meet with the Algerian Ambassador to Serbia (National Assembly House, 13 Nikola Pasic Square, hall 3)