National Assembly of the Republic of Serbia / Activities / Activity details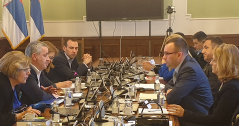 18 April 2019 The Chairman of the Committee on the Diaspora and Serbs in the Region in meeting with ministry representatives
Thursday, 18 April 2019
Diaspora and Serbs in the Region Committee Chairman Talks to Ministry Representatives about Budgetary Allocations for the Diaspora
Miodrag Linta, Chairman of the Committee on the Diaspora and Serbs in the Region, met with representatives of relevant ministries to talk about capital projects for the coming year concerning cooperation with the diaspora and Serbs in the region. Since the funds allocated by the mother country for the Serbian organizations in the region are insufficient, Chairman Linta organized the meeting to examine the options to increase the budgetary funds the ministries allocate for these purposes.
---
Assistant Minister for Sport Darko Udovicic, Assistant Minister for Higher Education Doc. Dr Bojan Tubic, Dean of the Faculty of Philology Prof. Dr Ljiljana Markovic, Assistant Minister of Culture and the Media Slavica Trifunovic, Senior Advisor at the Contemporary Art Sector Mladen Veskovic, Head of the Sector for Pension and Disability Insurance and Veteran Disability Protection Milica Djuric and the head of the Department of Migration Policy, Diaspora and Social Agreements, Ambassador Dr Ljiljana Niksic attended the meeting.
The ministry representatives presented their activities as regards cooperation with the diaspora and Serbs in the region and proposed a number of new projects to strengthen the ties between the diaspora and the mother country.
Following a constructive debate, Committee Chairman Linta proposed that each ministry submit its project proposals for next year to the Committee in writing as well as the options of securing the needed funds.
Committee Deputy Chairperson Mirjana Dragas and Committee members Aleksandar Markovic, Vlado Babic and Doc. Dr Ivan Bauer also took part in the meeting.


---
---
thursday, 2 july
13.00 - press conference of MPs Sasa Radulovic, Branka Stamenkovic and Vojin Biljic (National Assembly House, 13 Nikola Pasic Square, Central Hall)