National Assembly of the Republic of Serbia / Activities / Activity details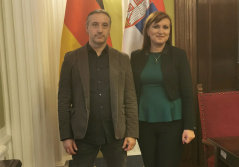 19 February 2020 Foreign Affairs Committee Deputy Chairperson Dubravka Filipovski and German Bundestag member Dr Alexander Neu
Wednesday, 19 February 2020
Defence and Internal Affairs Committee and Foreign Affairs Committee Members Meet with German Bundestag Member
The members of the Defence and Internal Affairs Committee and the Foreign Affairs Committee met today at the National Assembly House with German Bundestag member Dr Alexander Neu.
---
Foreign Affairs Committee Deputy Chairperson Dubravka Filipovski spoke about the good relationship between Serbia and Germany, stressing the importance of the open dialogue between the two countries. She added that the excellent economic cooperation is amply reflected in the presence of 400 German companies operating on the territory of Serbia and employing 63 thousand Serbian workers.
"Our country's number one foreign policy goal and biggest priority is EU accession. Serbia also considers regional cooperation and stability, continuation of the dialogue between Belgrade and Pristina, military neutrality and cooperation with the great powers, as well as all the countries in the world, extremely important", Filipovski explained.
Speaking about the situation in Kosovo-Metohija and talks with Pristina she stressed that Serbia is striving to find a sustainable solution, but doing so requires good will from the other side too.
MP Gordana Comic said that defence reforms have been very slow through all the coalition governments to date, but the joint efforts of all the people in the system has yielded some progress.
According to her, though she is a very strong opposition and critic of the government's actions, she will support the proposals that are in the interest of Serbia and its citizens. As an example of good practice, Comic mentioned that the Government's migrant policy which has treated the migrant problem from the aspect of human rights.
German Bundestag member Dr Alexander Neu thanked the committee members for following his activities, including his support for Serbia in the German Parliament. Speaking of his years in Kosovo-Metohija, he said that he had witnessed many events that conflict with Resolution 1244.
"I understand that that European integration is Serbia's primary interest, but I consider Serbia's efforts to keep its military neutrality equally important. I believe that military neutrality is a very exacting policy, but I am sure that it is a better option in the long term", Neu concluded.


---
---
| M | T | W | T | F | S | S |
| --- | --- | --- | --- | --- | --- | --- |
| 27 | 28 | 29 | 30 | 1 | 2 | 3 |
| 4 | 5 | 6 | 7 | 8 | 9 | 10 |
| 11 | 12 | 13 | 14 | 15 | 16 | 17 |
| 18 | 19 | 20 | 21 | 22 | 23 | 24 |
| 25 | 26 | 27 | 28 | 29 | 30 | 31 |
friday, 1 december
No announcements for selected date