National Assembly of the Republic of Serbia / Activities / Activity details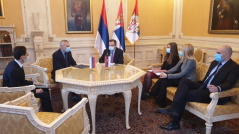 The officials discussed the current situation, global health and economic impact of the coronavirus pandemic, as well as the challenges in the political sphere and international relations. National Assembly Speaker Ivica Dacic once again thanked the Russ
Wednesday, 27 January 2021
Dacic and Botsan-Kharchenko on Current Situation, Health and Economic Impact of Coronavirus Pandemic
The Speaker of the National Assembly of the Republic of Serbia Ivica Dacic received the Ambassador of the Russian Federation to Serbia, Alexander Botsan-Kharchenko.
---
The officials discussed the current situation, global health and economic impact of the coronavirus pandemic, as well as the challenges in the political sphere and international relations.
National Assembly Speaker Ivica Dacic once again thanked the Russian Federation for the help it provided to Serbia during the pandemic, especially the delivery of the Sputnik V vaccine, which he personally received. He expressed hope that there would soon be new deliveries.
Ambassador Botsan-Kharchenko reiterated the invitations extended to National Assembly Speaker Ivica Dacic by the Speaker of the Russian State Duma Vyacheslav Volodin and the Chairperson of the Russian Federation Council Valentina Matviyenko, to visit the Russian Federation soon. In view of the accelerated vaccination process underway in both the Russian Federation and Serbia, the officials agreed that this visit could be realized in the near future.
---
Photo gallery
---
---
thursday, 25 february
10.00 - continuation of the Third Extraordinary Session of the National Assembly of the Republic of Serbia, 12th Legislature (National Assembly House, 13 Nikola Pasic Square)

12.00 - sitting of the Committee on Finance State Budget and Control of Public Spending (National Assembly House, 13 Nikola Pasic Square, hall 4)

12.00 - sitting of the Committee on Administrative, Budgetary, Mandate and Immunity Issues (National Assembly House, 13 Nikola Pasic Square, hall 2)

12.00 - National Assembly Speaker Ivica Dacic meets with the Head of the EU Delegation to Serbia Sem Fabrizi (National Assembly House, 13 Nikola Pasic Square, diplomatic salon of Prince Pavle Karadjordjevic)

13.00 - sitting of the Subcommittee for monitoring the epidemiological situation due to the presence of the infectious disease COVID-19 (National Assembly House, 13 Nikola Pasic Square, hall 4)

13.00 - the Head of the PFG with Qatar meets with the Ambassador of Qatar (National Assembly House, 13 Nikola Pasic Square, hall 3)

16.00 - institute of parliamentary questions on the last Thursday of the month (National Assembly House, 13 Nikola Pasic Square)