National Assembly of the Republic of Serbia / Activities / Activity details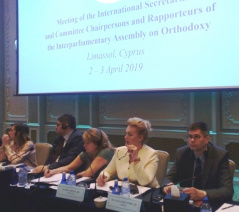 3 April 2019 The Head of the standing delegation of the National Assembly of the Republic of Serbia to the Interparliamentary Assembly on Orthodoxy (IAO) Aleksandar Cotric at the meeting of the IAO International Secretariat, Committee Chairpersons and Rap
Wednesday, 3 April 2019
Cotric in Cyprus: Serbia for Peaceful Solution to Kosovo Problem
"Serbia stands in favour of a peaceful diplomatic solution to the Kosovo problem which means a compromise between Belgrade and Pristina. This solution does not mean a defeat, but a future for Serbia. If Belgrade and Pristina do not reach an agreement, that would spell catastrophe and a new war in the Balkans", said Aleksandar Cotric, Head of the standing delegation of the National Assembly of the Republic of Serbia to the Interparliamentary Assembly on Orthodoxy (IAO), at today's meeting of the IAO International Secretariat, Committee Chairpersons and Rapporteurs in Limassol, Cyprus.
---
"Belgrade believes it will be able to reach an agreement with Pristina with the support of the European Union and Russia, the US and China. Serbia is grateful to the Interparliamentary Assembly on Orthodoxy for its support of the Serbian community in Kosovo-Metohija over the 25 years of existence of the parliamentary organization, comprising representatives from 27 countries", said Cotric.
He also voiced his support for the territorial integrity of Cyprus and the efforts to reunite the island by fostering an agreement between the Greek and Turkish community.
Cotric praised the unity of the Interparliamentary Assembly on Orthodoxy and Orthodox churches, believing that the IAO will help find a peaceful diplomatic and democratic solution to the conflict in Kosovo, Cyprus, the Ukraine and between some Orthodox churches.


---
---
thursday, 24 september
No announcements for selected date