National Assembly of the Republic of Serbia / Activities / Activity details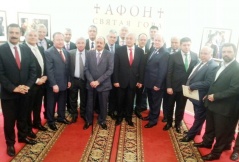 5 April 2016 Participants of the session of the Inter-Parliamentary Assembly on Orthodoxy in Moscow
Thursday, 7 April 2016
Cotric at Session of Inter-Parliamentary Assembly on Orthodoxy in Moscow
MP Aleksandar Cotric, Head of the National Assembly's standing delegation to the Inter-Parliamentary Assembly on Orthodoxy (IAO), took part in the session of the Inter-Parliamentary Assembly on Orthodoxy in Moscow, 4-5 April, dedicated to current issues and the organisation's future activities.
---
The session, chaired by the President of the Interparliamentary Assembly on Orthodoxy Sergei Popov, was held at the Russian State Duma and attended by MPs from 12 countries who considered possible responses to the challenges of international terrorism and extremism, conflicts in the Middle East, the refugee crisis and renewed war in the Caucasus.

Cotric highlighted Serbia's dedication to regional and global stability and finding adequate solutions to put a lasting end to the ongoing confrontations.

The participants adopted an official statement expressing support for Russia, the US and other countries in the fight against the so-called Islamic State and other extremist organisations in Syria. The members of the IAO International Secretariat and representatives of relevant commissions expressed their support of the acceptance and care for refugees – Christians and Muslims alike, in the Middle East region, at the same time firmly defying the attempts to change the religious map of the region and drive Christians out of their homes.

The Inter-Parliamentary Assembly on Orthodoxy commended the decision to hold a Grand Council of all local Christian churches 18-27 June 2016 on the Greek island of Crete. IAO representatives will be attending this big and important gathering. They also commended the first meeting of the Patriarch Kirill of Moscow and Pope Francis which leads to better understanding and unity between the Christian churches.

It was decided that the next annual IAO assembly be held in Thessaloniki, 29 June – 3 July 2016.

At the session of the IAO Secretariat, Aleksandar Cotric informed the participants about the results of the second international photo contest with the topic "Destruction of Monuments of Eastern Christianity".

On April 4, the Russian State Duma hosted an exhibition of photos and graphics entitled "Holy Mount Athos" organised by the Inter-Parliamentary Assembly on Orthodoxy and dedicated to the thousand-year presence of Russian monks on Athos. Among others, the opening of the exhibition was attended by the Speaker of the State Duma Sergey Naryshkin and representatives of all the parliamentary groups in the Russian parliament.


---
---