National Assembly of the Republic of Serbia / Activities / Activity details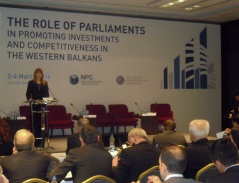 3 March 2014 Conference of the regional Network of Parliamentary Committees on Economy, Finance and European Integration of the Western Balkans
Tuesday, 4 March 2014
Conference of Regional Network of Parliamentary Committees on Economy, Finance and European Integration of Western Balkans
Belgrade hosted a conference of the regional Network of Parliamentary Committees on Economy, Finance and European Integration of the Western Balkans, titled "The role of parliaments in promoting investments and competitiveness in the Western Balkans", on 3 and 4 March 2014.
---
Opening the conference, National Assembly Deputy Speaker Vesna Kovac stressed that the shared goal of the Western Balkan states was to boost export and competitiveness. Foreign investments are the source of economic growth, which makes it very important to have the appropriate business environment for investment, said Kovac adding that in order to achieve competitiveness, it is necessary to work on building infrastructure and eliminating administrative barriers to foreign investments. The National Assembly Deputy Speaker also opined that the parliament and the pertinent finance committees play a significant role in creating economic policy.
In addition to the parliamentarians, members of the regional Network, the conference was also attended by state aid and competitiveness experts, representatives of chambers of commerce, investment agencies, ministries of economy, employers and investors from the Western Balkans region, as well as Scottish MPs who presented the Scottish experience and practice relating to the promotion of investment and competitiveness and the parliament's role in the field.
The first day of the conference was dedicated to the role of the parliament and legislation in promoting investments and competitiveness, and the introduction of policies to attract foreign direct investments and strengthen competitiveness.
On the second day of the conference, the participants discussed policies for state aid and subsidies to investors in the Western Balkans and the importance of strengthening cooperation between chambers of commerce, parliamentary committees and government agencies for promoting investments and competitiveness.
The regional Network of Parliamentary Committees on Economy, Finance and European Integration of the Western Balkans was set up in 2009 with the support of the Westminster Foundation for Democracy, with the aim to improve parliamentary oversight processes in the Western Balkan parliaments, strengthen regional parliamentary cooperation, share best practices from the region and create a sustainable parliamentary network that would tackle economic development issues. The Network comprises 25 committees from 8 Western Balkan parliaments.


Click
here
to download the conclusions and recommendations the participants adopted at the end of the two-day conference.
---
---
| M | T | W | T | F | S | S |
| --- | --- | --- | --- | --- | --- | --- |
| 27 | 28 | 29 | 30 | 31 | 1 | 2 |
| 3 | 4 | 5 | 6 | 7 | 8 | 9 |
| 10 | 11 | 12 | 13 | 14 | 15 | 16 |
| 17 | 18 | 19 | 20 | 21 | 22 | 23 |
| 24 | 25 | 26 | 27 | 28 | 29 | 30 |
| 31 | 1 | 2 | 3 | 4 | 5 | 6 |
friday, 7 august
No announcements for selected date