National Assembly of the Republic of Serbia / Activities / Activity details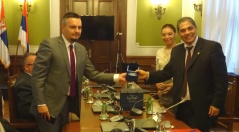 19 July 2017 The Head of the PFG with Brazil Zika Gojkovic and Brazilian Senator Helio Jose da Silva Lima
Wednesday, 19 July 2017
Closer Cooperation between Serbia and Brazil's Infrastructure and Economy to Boost Overall Cooperation
The members of the Parliamentary Friendship Group with Brazil met today with Helio Jose da Silva Lima, member of the Federal Senate of the National Congress of Brazil, and noted that though the two states enjoy close cooperation they could still deepen it in the spheres of infrastructure and economy, as well as when it comes to exchanging experiences related to legislation.
---
The Head of the PFG with Brazil Zika Gojkovic first thanked the Federal Republic of Brazil for not recognizing the unilaterally declared independence of Kosovo-Metohija and voting against its bid to join UNESCO.

Helio Jose da Silva Lima said that a state's territorial integrity and sovereignty must be respected and that others should not meddle in one state's internal affairs. He said that Serbia and Brazil have a vast untapped potential in renewable resources, adding that, parallel with the technical part, the area must be regulated through a legislative framework. The Senator said that Brazil uses biomass, wind energy and small hydroelectric power plants on rivers to better utilize its renewable energy resources and also help protect the environment. The officials came to an idea to hold a joint panel discussion on infrastructure, transport and energy.

They also spoke about the structure of the parliament, gender representation in political life, the election process and reform of the voting system. They said that Serbia and Brazil could foster closer economic cooperation which would increase Serbia's presence on the South American continent, and Brazil could use Serbia's close ties with the Middle East.

The meeting was attended by MPs Ljiljana Malusic, Ivana Stojiljkovic, Bojan Torbica and Zvonimir Stevic, as well as Brazilian Ambassador to Serbia Isabel Cristina Heyvaert.


---
---