National Assembly of the Republic of Serbia / Activities / Activity details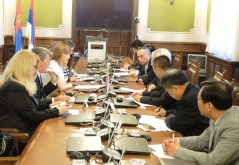 29 June 2015 The National Assembly delegation in meeting with the delegation of the Chinese People's Political Consultative Conference Foreign Affairs Committee
Monday, 29 June 2015
Chinese People's Political Consultative Conference Foreign Affairs Committee Delegation Visits National Assembly
A delegation of the Chinese People's Political Consultative Conference Foreign Affairs Committee, headed by the Deputy Chairman Cai Wu, met today with a National Assembly delegation headed by the Chairperson of the Foreign Affairs Committee Aleksandra Djurovic.
---
The members of the two delegations said how pleased they were with the long-standing friendly relations between the Serbian and Chinese people, and Foreign Affairs Committee Chairperson Aleksandra Djurovic opined that the bilateral cooperation between Serbia and China is at an all-time high since the establishment of diplomatic relations in 1955.

Aleksandra Djurovic highlighted the importance of the two countries' reciprocal support when it comes to the preservation of the territorial integrity of Serbia and China and thanked the members of the Chinese delegation for the fact that China had not recognised the unilaterally declared independence of Kosovo-Metohija.

The Deputy Chairman of the Chinese People's Political Consultative Conference Foreign Affairs Committee Cai Wu said that both countries are currently in historically important developmental stages due to the political and economic reforms underway in Serbia and China.

Serbia is China's most trusted partner in Europe, opined Cai Wu in conversation with the National Assembly delegation, pointing out the significance of the further development of their strategic partnership and underlining China's support of Serbia's European integration process.

Speaking of economic cooperation, Cai Wu stressed that the Chinese Government urges Chinese businessmen to invest into Serbia, which is in turn expected to secure favourable conditions for Chinese investors.

The officials also stressed the importance of continuing the infrastructural, cultural and educational cooperation, jointly noting that an exchange of visits between parliamentary friendship groups would contribute to the further development of parliamentary relations between Serbia and China.

The meeting was also attended by the Head of the PFG with China prof. Dr Zarko Obradovic and the Chairperson of the Committee on the Economy, Regional Development, Trade, Tourism and Energy Dr Aleksandra Tomic, PFG member.


---
---
friday, 18 september
No announcements for selected date