National Assembly of the Republic of Serbia / Activities / Activity details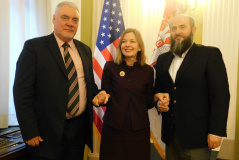 14 March 2019 The chairmen of the Committee on Education, Science, Technological Development and the Information Society, Dr Muamer Zukorlic, and the Culture and Information Committee, Mirko Krlic, with US Assistant Secretary of State Marie Royce
Thursday, 14 March 2019
Chairmen of Two National Assembly Committees Meet with US Assistant Secretary of State
The chairmen of the Committee on Education, Science, Technological Development, Dr Muamer Zukorlic, and the Information Society and the Culture and Information Committee, Mirko Krlic, met today at the National Assembly with US Assistant Secretary of State Marie Royce to discuss cultural and educational cooperation.
---
Dr Muamer Zukorlic said that education is of strategic importance for any state, and Serbia in particular in view of its transition and reforms. By adjusting the education system to the needs of modern society we can help young people live up to their talents and dreams and stay in Serbia, said Zukorlic, stressing that USA's cooperation and support in the matter would be greatly appreciated.
Mirko Krlic highlighted the importance of the cultural cooperation between Serbia and the US. He also spoke about protecting Serbian cultural heritage in Kosovo-Metohija, saying that Serbia is against so-called Kosovo's joining UNESCO, because the people who had destroyed churches and resorted to violence cannot be expected to protect the Serbian cultural heritage and religious monuments in Kosovo-Metohija.
Marie Royce agreed that education and culture are of great importance for any state. She said that since 2001, 2400 students from Serbia have visited the US through cultural exchange programmes. Speaking about the protection of Serbia's cultural heritage and religious monuments, Royce said that the US Embassy in Serbia supports these efforts via 10 different projects.


---
---
saturday, 6 june
No announcements for selected date