National Assembly of the Republic of Serbia / Activities / Activity details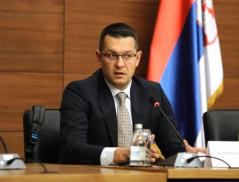 23 November 2021 The Chairman of the Committee on Human and Minority Rights and Gender Equality Dr Muamer Bacevac,
Tuesday, 23 November 2021
Bacevac Elected to Chair Human Rights Network of Six Regional Parliaments
The Human Rights and Gender Equality Network of Committees in the Western Balkans (HUGEN) was established as a non-formal parliamentary network, on a voluntary basis and principles, in October 2019, under the auspices of the regional programme for the Western Balkans conducted by the Westminster Foundation for Democracy (WFD).
---
The programme is supported by the Norwegian Ministry of Foreign Affairs and the network is governed by a board made up of the chairs of six parliamentary committees from the region.

HUGEN was established with the aim of enhancing existing and developing new mechanisms for regional parliamentary cooperation on human rights and gender issues in the Western Balkan region and for developing more robust parliamentary oversight of human rights and gender laws and policies. HUGEN is the only form of regional parliamentary initiative that brings together the parliamentary committees in charge of these issues in the Western Balkans region.

At the sixth meeting of HUGEN, held in Belgrade on 23 November 2021, Dr Muamer Bacevac, Chairman of the National Assembly's Committee on Human and Minority Rights and Gender Equality, was elected chair. Thanking the attending for their trust, he emphasised the importance of regional cooperation and the network's contribution to establishing post-legislative oversight. He suggested that one of the next meetings of HUGEN be held in Novi Pazar.



---
---
tuesday, 7 december
9.00 - sitting of the Committee on Finance, State Budget and Control of Public Spending (National Assembly House, 13 Nikola Pasic Square, hall 3)

9.00 - sitting of the Committee on the Judiciary, Public Administration and Local Self-Government (National Assembly House, 13 Nikola Pasic Square, hall 2)

10.00 - 11th Sitting of the Second Regular Session of the National Assembly of the Republic of Serbia in 2021 (National Assembly House, 13 Nikola Pasic Square)

11.00 - National Assembly Deputy Speaker Stefan Krkobabic meets with a delegation led by the Head of the Georgian Royal House H.R.H. Prince Davit Bagration Muhranbatoni (National Assembly House, 13 Nikola Pasic Square, library)

11.00 - the Head of the National Assembly's standing delegation to NATO PA meets with the Ukrainian Ambassador to Serbia (National Assembly House, 13 Nikola Pasic Square, hall 2)

11.45 - press conference of National Assembly Deputy Speaker Stefan Krkobabic and H.R.H. Prince Davit Bagration Muhranbatoni (National Assembly House, 13 Nikola Pasic Square, Central Hall)

12.30 - sitting of the Foreign Affairs Committee (National Assembly House, 13 Nikola Pasic Square, hall 2)