National Assembly of the Republic of Serbia / Activities / Activity details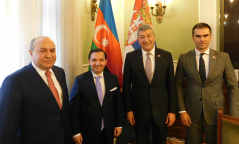 3 June 2019 The Azerbaijani Deputy Foreign Minister visits the National Assembly
Monday, 3 June 2019
Azerbaijani Deputy Foreign Minister Visits National Assembly
National Assembly Deputy Speaker Prof. Dr Vladimir Marinkovic and the member of the PFG with Azerbaijan Zarko Micin met today with the Deputy Minister of Foreign Affairs of the Republic of Azerbaijan Ramiz Ayvaz oglu Hasanov to discuss advancing Serbia-Azerbaijan bilateral cooperation and strategic partnership.
---
Marinkovic said he expected the National Assembly to soon ratify the agreements Serbia has with Azerbaijan, especially those concerning welfare, tax policy and abolition of visas. He stressed that Serbia is most pleased with its parliamentary cooperation with Azerbaijan, as well as the cooperation in multilateral organizations such as the IPU, PACE and PABSEC. Deputy Speaker Marinkovic praised the development of economic cooperation between the two countries, especially in the fields of infrastructure and civil engineering, as well as their cultural cooperation.
He briefed the guest on the latest developments in Kosovo-Metohija in detail, thanking Azerbaijan for not recognizing the unilaterally declared independence of Kosovo.
"We are concerned by the halt in the dialogue since October of last year when the provisional institutions in Pristina launched a series of activities that suspended the dialogue", said Marinkovic.
He added that by imposing the 100% customs tariffs on goods from Serbia and Bosnia and Herzegovina Pristina had violated all international trade conventions, and by establishing the so-called army it had brutally violated UNSC Resolution 1244. He also stressed that, in the last year, 14 countries around the world had retracted their recognition of so-called Kosovo.
In the meeting with Azerbaijani Deputy Foreign Minister Hasanov, Marinkovic stated that Serbia respects Azerbaijan's sovereignty and territorial integrity and its intention to resolve any outstanding issue in a peaceful manner. He said that the National Assembly will consider passing a resolution concerning the dispute between Azerbaijan and Armenia.
The member of the PFG with Azerbaijan Zarko Micin again thanked Armenia for its principled stance on Kosovo-Metohija stressing that it is now important more than ever for Serbia in view of the latest developments. He thanked Azerbaijan for not voting in favour of so-called Kosovo's INTERPOL, UNSECO and Venice Commission bids, which is a true sign of support for the Republic of Serbia.
Azerbaijani Deputy Foreign Minister Ramiz Ayvaz oglu Hasanov praised the two countries' strategic cooperation, particularly their mutual support in international organizations, in line with international law. He thanked Serbia for its support of Azerbaijan's sovereignty and territorial integrity and briefed the hosts on the latest developments in the dispute between Azerbaijan and Armenia.
Hasanov was also very pleased by the fact that both parliaments have friendship groups which will undoubtedly influence the relationship and friendship between the two nations.
---
---
wednesday, 20 november
10.00 - Sixth Sitting of the Second Regular Session of the National Assembly of the Republic of Serbia in 2019 (National Assembly House, 13 Nikola Pasic Square)

12.00 - press conference of MP Bosko Obradovic (National Assembly House, 13 Nikola Pasic Square, Central Hall)

12.30 - press conference of MPs Miroslav Aleksic and Marko Djurisic (National Assembly House, 13 Nikola Pasic Square, Central Hall)

13.00 - press conference of MP Zoran Zivkovic (National Assembly House, 13 Nikola Pasic Square, Central Hall)

14.00 - sitting of the Committee on the Rights of the Child (National Assembly House, 13 Nikola Pasic Square, hall 1)

- photo exhibition on the World Children's Day and the 50th anniversary of "The Joy of Europe" (National Assembly House, 13 Nikola Pasic Square, Central Hall)