National Assembly of the Republic of Serbia / Activities / Activity details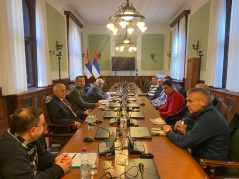 30 January 2023 The participants of the meeting
Monday, 30 January 2023
Agriculture, Forestry and Water Management Committee Chairman Meets with Union of Agricultural Producers of Serbia
On 30 January 2023, the Chairman of the Agriculture, Forestry and Water Management Committee Marijan Risticevic received the Union of Serbian Agricultural Producers - SPAS in the National Assembly House and following a long discussion the representatives of SPAS presented the following demands:
---
Aid for all livestock breeders from commodity reserves, not just cattle breeders.
What will the incentives per hectare plus the rebate be? (currently incentives for plant production are 6,000 RSD per hectare plus 2,000 RSD for mineral fertilizers)?
Increase in subsidies per head and to end year 2023 according to the old payment system.
Payment of all debts.
To prevent abuse and usurpation related to state-owned agricultural land.
To allow the construction of prefabricated buildings from natural materials - reeds, wood, straw on leased agricultural land in state ownership, which has been leased to livestock farmers for several years.
To allocate money for incentives from rural development with the condition that priority be given to those who are insured as agricultural producers and make sure that the Ministry of Agriculture, Forestry and Water Management, along with other competent Ministries, regulate of debts for farmers' pension and health insurance.
To harmonise peasant pensions with payments for farmers' pension and health insurance.
---
---
friday, 31 march
11.00 - press conference of the MPs of the Democratic Party – DS Parliamentary Group (National Assembly House, 13 Nikola Pasic Square, Central Hall)

12.00 - sitting of the Committee on the Economy, Regional Development, Trade, Tourism and Energy (National Assembly House, 13 Nikola Pasic Square, hall 2)

12.30 - the National Assembly Speaker meets with the Prime Minister of North Macedonia (National Assembly House, 13 Nikola Pasic Square, hall 1)