National Assembly of the Republic of Serbia / Activities / Activity details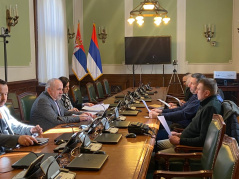 30 January 2023 The participants of the meeting
Monday, 30 January 2023
Agriculture, Forestry and Water Management Committee Chairman Meets with Livestock Breeders and Milk Producers Associations
At the request of the association gathering livestock breeders and milk producers, the Chairman of the Agriculture, Forestry and Water Management Committee Marijan Risticevic held a meeting in the National Assembly House on 30 January 2023, where the following was noted:
---
Problems should be solved by agreement with the Ministry and processors.
We should not allow milk production to be jeopardized by excessive import and should consider the possibility of introducing levies and protection through other possible tools.
To carefully observe the possibility of importing cheese at dumping prices and prevent it.
An agreement between producers and representatives of the Ministry is needed regarding the producers' participation in problem-solving in the dairy industry.
Fully focus individual rulebooks to livestock breeding and milk production.
Ensure the payment of debts and current incentives is as fast as possible, especially in livestock breeding.
Any problem-solving agreement between the producers and representatives of the Ministry will be welcomed.
Avoid possible political manipulations and endangering the rights of other citizens without disputing anyone's affiliations.
The Committee Chairman supports the efforts of agricultural producers to solve the problems in milk production and we must not allow milk production to end up in a situation similar to that in pork production.
Milk producers to be involved in problem-solving efforts.
The Committee Chairman is of the opinion that the Committee will continue to support every financial request and Ministry proposal related to solving this problem.
---
---
monday, 20 march
11.00 - the Head of the PFG with Palestine meets with the Charge d'Affaires of the Embassy of the State of Palestine in Serbia (National Assembly House, 13 Nikola Pasic Square, hall 2)

14.00 - the Chairman of the Foreign Affairs Committee meets with the Chairman of the Bundestag's Foreign Affairs Committee (National Assembly House, 13 Nikola Pasic Square, hall 2)

16.00 - the members of the PFG with Italy meet with members of the Italian Chamber of Deputies (National Assembly House, 13 Nikola Pasic Square, hall 2)