National Assembly of the Republic of Serbia / Activities / Activity details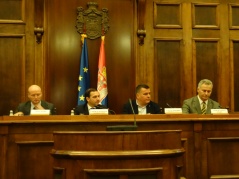 22 February 2016 48th lobbyists club at the National Assembly
Monday, 22 February 2016
48th Lobbyists Club on Importance and Instruments of Lobbying in EU
National Assembly Deputy Speaker Prof. Dr Vladimir Marinkovic opened the 48th lobbyists club at the National Assembly today, dedicated to the importance and instruments of lobbying in the EU.
---
On the occasion, Marinkovic said he was very pleased that the National Assembly has the opportunity to host this event and informed the members of the Serbian Lobbyists Association about the National Assembly's activities in Serbia's EU accession process in the past two years.
"Serbia's goal is to become a full EU member. The opening of the first negotiation chapters near the end of last year is a big achievement for the Government and the National Assembly, with the expectation that new chapters would be opened this year. This is a huge responsibility for us in the accession process as it means the adoption of high European standards in all spheres of life and society so that we could become a modern, developed country", stressed Marinkovic.
He added that the last two years were characterised by Serbia's excellent international position and relations with EU and US partners, as well as development of good economic relations with Russia and China, as well as with partners from the Middle East which are sources of considerable investment. "The National Assembly has passed a great many laws and other acts contributing to Serbia's becoming the most welcoming country for investments in the region", Marinkovic reminded the participants of the gathering.
The President of the Serbian Lobbyists Association Nenad Vukovic presented the Association and gave a brief overview of its activities.
Freek Janmaat, representative of the EU Delegation in Serbia, informed the participants about the EU accession process, expectations vis-à-vis the opening of new negotiation chapters and lobbying in the EU as regards adoption of legislation. He reminded the members of the Serbian Lobbyists Association that the EU has no special lobbying regulations at the level of the Union, rather the matter is regulated by each member state though its national legislation. The EU, however, insists on transparency in the lobbying process, especially by governments, so as to avoid conflict of interest.
Click here for more from the 48th lobbyists club.


---
---
thursday, 20 january
13.00 - the National Assembly Speaker meets with the Ambassador Extraordinary and Plenipotentiary of the Bolivarian Republic of Venezuela (National Assembly House, 13 Nikola Pasic Square, diplomatic salon of Prince Pavle)