National Assembly of the Republic of Serbia / Activities / Activity details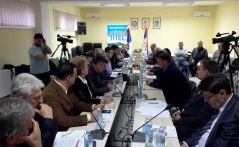 30 November 2017 22nd Sitting of the Agriculture, Forestry and Water Management Committee
Thursday, 30 November 2017
22nd Sitting of the Agriculture, Forestry and Water Management Committee
At the sitting held on 30 November in Titel, the members of the Agriculture, Forestry and Water Management Committee discussed agricultural policy with a special focus on the IPARD programme.
---
Assistant Minister of Agriculture, Forestry and Water Management Zoran Janjatovic informed the Committee members that the first call for the IPARD programme, for investment into mechanisation, equipment and tractors, would be announced in the third week of December, while the one for the processing industry is expected in spring. He reminded them that the total value of the funds is 175 million EUR.
Zarko Radat, head of the Directorate for Agrarian Payments at the Ministry of Agriculture, Forestry and Water Management, informed the Committee members about the Directorate's activities with a special focus on getting accredited by the European Commission for the implementation of the IPARD programme.
"Two auditory inspections were conducted for that purpose: one was an external audit to verify that all the findings of the previous period had been resolved, and the other, conducted in November, ascertained that all the blocking findings had been rectified, while the final judgement on what needs to be enhanced in the sense of procedure and action was given by the European Commission's audit which noted that there is no impediment to the management of funds from the European Union and IPARD grants", said Radat.

The Ministry representatives went on to explain the procedure how to gain access to the IPARD grants.
The Committee concluded that it endorses the possible qualification for IPARD grants and recommended that the Ministry and the Directorate for Agrarian Payments keep making sure that the IPARD grants benefit agricultural households.
Under item two on the agenda the attending representatives of the local self-government, farmers and livestock breeders shared the perceived problems and a number of suggestions.

The Committee sitting outside of the National Assembly seat, in Titel, was held with the support of the United Nations Development Programme (UNDP) and the Swiss Agency for Development and Cooperation (SDC) via project "Strengthening the Oversight Role and Transparency of the National Assembly of the Republic of Serbia".

The sitting was chaired by Committee Chairman Marijan Risticevic and attended by the following Committee members and deputy members: Jasmina Obradovic, Veroljub Matic, Tijana Davidovac, Zarko Bogatinovic, Milija Miletic, Radovan Jancic, Mladen Lukic, Arpad Fremond, Ljubinko Rakonjac and Miroslav Aleksic.


---
Committees related to this activity
---
---
monday, 18 october
11.30 - the National Assembly Speaker takes part in the on-line meeting of the EP facilitated Inter-Party Dialogue (National Assembly House, 13 Nikola Pasic Square, library)