National Assembly of the Republic of Serbia / Activities / National Assembly / Working Bodies / Committee Sittings outside of the National Assembly Seat / Details of the Committee sitting
Committee Sittings outside of the National Assembly Seat

Vrnjacka Banja
Tuesday, 18 November 2014
15th Sitting of the Committee on Human and Minority Rights and Gender Equality
The Committee on Human and Minority Rights and Gender Equality held a sitting on 18 November in Vrnjacka Banja, with the support of the OSCE Mission to Serbia.
---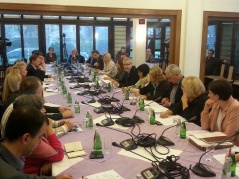 18 November 2014 Participants of the sitting
At the 15th sitting, the Committee members discussed the role of the gender equality mechanisms and the relevant authorities' following the appropriate protocols when dealing with cases of violence against women in the family or partnership.

Committee Chairman Meho Omerovic said that the Committee sitting had been organised with the help of the Ombudsman and the OSCE Mission to Serbia. He opined that what plays a key role in achieving gender equality and preventing violence against women is an efficient and competently implemented legislative framework, preventive measures and elimination of the causes of such violence. The Committee Chairman stressed the need to raise awareness on improving the position of women in all spheres of life and to coordinate all the segments of society in the effort to help women face the problem of violence.

The officials discussed the position of women and the extent to which gender equality is respected in local self-governments. They agreed that all segments of society should focus their attention on preventing violence against women, children and persons with disabilities. They underlined the importance of empowering women, educating the society in general and the role of local gender equality mechanisms.

In addition to the Committee members, the sitting was attended by the Ombudsman's gender equality chief, representatives of the municipalities of Vrnjacka Banja and Novi Pazar, representatives of the welfare offices of Nis, Kraljevo, Krusevac and Vrnjacka Banja, representatives of the gender equality council from Novi Pazar and Kraljevo, representatives of the police administrations of Kraljevo and Krusevac and the non-governmental sector.

The sitting was chaired by Committee Chairman Meho Omerovic.


Vrnjacka Banja: Photo gallery
Other sessions of this committee
Contact the National Assembly Committee

Committee meetings outside the headquarters of the National Assembly are being organized and this sub-site has been produced with the support of the United Nations Development Program (UNDP) and the Swiss Agency for Development and Cooperation (SDC), as part of the project "Strengthening the oversight role and publicity in the work of the National Assembly." The views and content on this subpage do not necessarily represent the views of UNDP and the SDC.