National Assembly of the Republic of Serbia / Activities / Activity details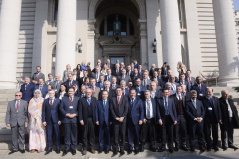 21 February 2019 Participants of the 13th Plenary Session of the Parliamentary Assembly of the Mediterranean
Thursday, 21 February 2019
13th Plenary Session of the Parliamentary Assembly of the Mediterranean
National Assembly Deputy Speaker Veroljub Arsic opened the 13th Plenary Session of the Parliamentary Assembly of the Mediterranean (PAM) today at the National Assembly House, saying that the PAM session is a true testament to the importance of parliamentary cooperation and dialogue.
---
"For the second year running, Belgrade is hosting the Parliamentary Assembly of the Mediterranean which speaks volumes about Serbia's dedication to dialogue, peace and stability and trust in Serbia and its reputation in the international community", said Arsic, stressing that the National Assembly stands ready to help promote the organization's values. Arsic said that since its foundation PAM has been fostering dialogue and its many resolutions confirm its status as a powerful organization that takes modern challenges heads on.
Deputy Speaker Arsic was followed by First Deputy Prime Minister and Minister of Foreign Affairs Ivica Dacic who said that the two-day PAM session testifies to Serbia's dedication to promoting multilateralism and relations between the states in the Mediterranean region.
"This organization is very active on important issues. I am sure your participation in these debates will help find new solutions to modern problems", said Dacic, taking the opportunity to thank all the countries which had not recognized the self-declared independence of Kosovo-Metohija, as well as the ones which withdrew their original recognition. He also thanked the Parliamentary Assembly of the Mediterranean for its support of Serbia's sovereignty and territorial integrity and UNSC Resolution 1244.
PAM President Pedro Roque thanked the National Assembly for its support and trust in the last two years and for the excellent cooperation, stressing that there are still a lot of global problems waiting for a solution. Still, he said, it should be stressed that the work of the Parliamentary Assembly of the Mediterranean has strengthened partnerships which have yielded exceptional results, especially in terms of combating terrorism.
PAM Secretary General Sergio Piazzi then read the message of United Nations Secretary General Antonio Guterres who said that the Mediterranean region is faced with many modern challenges from terrorism to climate change and asked the participants to show solidarity and work together to address them.
In the course of day one of the PAM session, attended by parliamentarians from 28 countries, the Parliamentary Assembly of the Mediterranean signed a Memorandum of Understanding with the Interparliamentary Assembly on Orthodoxy (IAO), and the 1st Standing Committee on Political and Security-Related Cooperation and 2nd Standing Committee on Economic, Social and Environmental Cooperation presented their work.
On day two, 22 February, the PAM will elect a new President and new members of the Bureau and present the 2018 PAM Laureate Awards.


---
Photo gallery
---
---
| M | T | W | T | F | S | S |
| --- | --- | --- | --- | --- | --- | --- |
| 27 | 28 | 29 | 30 | 31 | 1 | 2 |
| 3 | 4 | 5 | 6 | 7 | 8 | 9 |
| 10 | 11 | 12 | 13 | 14 | 15 | 16 |
| 17 | 18 | 19 | 20 | 21 | 22 | 23 |
| 24 | 25 | 26 | 27 | 28 | 29 | 30 |
| 31 | 1 | 2 | 3 | 4 | 5 | 6 |
sunday, 9 august
No announcements for selected date