National Assembly of the Republic of Serbia / Activities / Activity details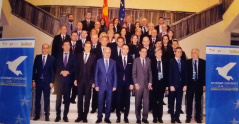 26 February 2018 The participants of the 13th COSAP - Conference of the European Integration/Affairs Committees of States Participating in the Stabilisation and Association Process of the South-East Europe
Monday, 26 February 2018
13th COSAP - Conference of the European Integration/Affairs Committees of States Participating in the Stabilisation and Association Process of the South-East Europe
A delegation of the National Assembly's European Integration Committee took part in the 13th Conference of the European Integration/Affairs Committees of States Participating in the Stabilisation and Association Process of the South-East Europe (COSAP) organized by the Assembly of the Republic of Macedonia in Skopje, on 25-26 February 2018.
---
The delegation of the European Integration Committee comprised Dragan Sormaz and Dr Muamer Bacevac. The meeting was also attended by parliamentary delegations from Albania, Bosnia and Herzegovina and Montenegro as COSAP members and Turkey and Pristina as guests. Representatives of the European Parliament, diplomatic corps and civil society were also among the attending.
The topics discussed at the Conference were the credible enlargement perspective for the Western Balkans and enhanced EU engagement with the Western Balkans, and Western Balkans ruled by law.
In the course of discussion, Dragan Sormaz among other things highlighted the role of the Republic of Serbia in the migrant crisis and its contribution to its resolution. He said that European integration is Serbia's foreign policy priority and the parliament is hard at work to achieve this strategic goal. The participants of the Conference underlined the importance of the enlargement strategy for the Western Balkans agreeing that a lot has to be done to meet the criteria such as the rule of law before approaching EU accession.
At the end of the meeting the participants adopted a
Joint Statement
. The 14th COSAP will be hosted by the Assembly of Montenegro.
---
---
thursday, 20 january
10.00 - sitting of the Health and Family Committee (National Assembly House, 13 Nikola Pasic Square, hall 2)

13.00 - the National Assembly Speaker meets with the Ambassador Extraordinary and Plenipotentiary of the Bolivarian Republic of Venezuela (National Assembly House, 13 Nikola Pasic Square, diplomatic salon of Prince Pavle)