National Assembly of the Republic of Serbia / Activities / Activity details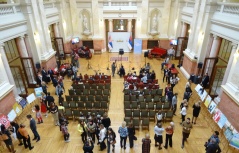 20 October 2015 "Week of Parliamentarism" - Children's Day
Tuesday, 20 October 2015
"Week of Parliamentarism" - Children's Day
The event "Week of Parliamentarism - You Have the Floor" reached out to our young citizens today as the National Assembly House hosted Children's Day.
---
Elementary school students from Belgrade schools "Drinka Pavlovic" and "20th October", and "Miodrag Cajetinac – Cajka" from Trstenik were given a tour of the parliament edifice, and attended a session simulation and "Little Assembly" workshop. Children from the Children's Cultural Centre acted part of the comedy "Member of Parliament" by Branislav Nusic, followed by an exhibition of children's art on "What parliament means to me".
On the behalf of the National Assembly, the children were welcomed by Deputy Speaker Prof. Dr Vladimir Marinkovic.
"You are always welcome to your house, our house – the National Assembly House. Today, we celebrate the "Week of Parliamentarism" and the liberation of Belgrade when our predecessors won their freedom, and we as the next generation wish to provide you with a safe childhood and the option to thrive in all spheres of live", said Deputy Speaker Marinkovic.
On the behalf of the Children's Cultural Centre, the assembly was addressed by Leontina Vukomanovic.
Click
here
to watch the opening of Children's Day.
---
---
monday, 6 july
13.00 - press conference of MPs Sasa Radulovic, Branka Stamenkovic and Vojin Biljic (National Assembly House, 13 Nikola Pasic Square, Central Hall)