National Assembly of the Republic of Serbia / Activities / Activity details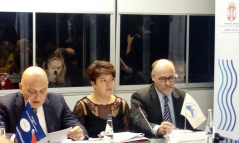 23 November 2018 Zoltan Pek at the meeting of the Ministers in charge of culture of the BSEC Member States
Friday, 23 November 2018
Zoltan Pek at Meeting of BSEC Ministers in Charge of Culture
Zoltan Pek, member of the standing delegation of the National Assembly of the Republic of Serbia to the Parliamentary Assembly of the Black Sea Economic Cooperation (PABSEC), took part in the meeting of the Ministers in charge of culture of the BSEC Member States with the topic "Promoting cultural cooperation and protecting cultural heritage in the Black Sea region – cultural diplomacy, tool for a better world – (re)modelling cultural diplomacy for a stable and safe world in the Black Sea region".
---
The meeting was opened by Serbian Minister of Culture and the Media Vladan Vukosavljevic.
Pek took part as the Vice-Chairman of the PABSEC Cultural, Educational and Social Affairs Committee. In his opening address he underlined the importance of cultural diplomacy for peace and stability in the world. He said that cultural cooperation, intercultural dialogue and protection of cultural heritage are issues the Parliamentary Assembly tackled in its recommendations and reports. He urged for the development of cultural routes and following new trends in culture and tourism such as the development of new Silk Road projects; establishment of cooperation networks and joint projects in the field of culture; campaigning to raise awareness focusing on the importance of the cultural heritage of the wider Black Sea region; strengthening regional cultural cooperation vis-a-vis non-material cultural heritage with the aim of researching and protecting the folklore and tradition of the Black Sea region; developing and conducting joint projects in the areas of cruise, maritime, rural, cultural, wellness and spa tourism in the Black Sea region.
He also highlighted the importance of cultural and creative sectors for the regional, social and economic growth of the Black Sea region.
At the end of the meeting the participants adopted the Belgrade Declaration of the BSEC Culture Ministers.


---
---
tuesday, 31 march
13.00 - press conference of MPs Sasa Radulovic, Branka Stamenkovic and Vojin Biljic (National Assembly House, 13 Nikola Pasic Square, Central Hall)