National Assembly of the Republic of Serbia / Activities / Activity details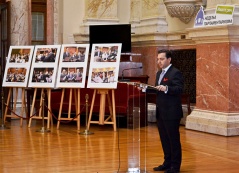 13 November 2017 National Assembly Deputy Speaker Prof. Dr Vladimir Marinkovic opens Parliamentary Week
Monday, 13 November 2017
Week of Parliamentarism Opened
National Assembly Deputy Speaker Prof. Dr Vladimir Marinkovic opened the third "Week of Parliamentarism" (Parliamentary Week), 13-20 November.
---
Marinkovic said that the National Assembly had been doing all in its power to affirm its openness and accessibility. These efforts had been rewarded by a growing public response from the civil sector, media associations, professional and expert associations to student organizations.
"Parliamentary Week gives us the opportunity to bring the spirit of democratic debate, and with it the importance and role of the National Assembly, to every city and school, square and public venue, everywhere that the numerous partners of Parliamentary Week will be organizing workshops, debates, session simulations and meetings with the MPs. The National Assembly strives to expand this important manifestation year after year to include more participants and events", said Marinkovic.
Marinkovic reminded the attending that more than 100 partner organizations, patrons of 160 events in more than 20 cities all over Serbia, had taken part in the last two Parliamentary Weeks.
"This year, Parliamentary Week appears as a regular annual activity and event on the National Assembly's calendar", said the National Assembly Deputy Speaker.
This year's Parliamentary Week was launched by an exhibition of photos of the most important events at the National Assembly in the last few years entitled "Guests, Friends and Memories", as well as the exhibition "Over a Century of the National Assembly House" which will remain opened to the public as a permanent exhibition.
Click
here
to watch the grand opening of Parliamentary Week.
---
---
Thursday, 13 December
9.00 - the National Assembly Speaker opens ECONOMIST conference (National Assembly House, 13 Nikola Pasic Square, Small Hall)