National Assembly of the Republic of Serbia / Activities / Activity details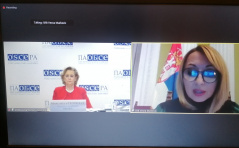 3 November 2021 The Head of the National Assembly delegation to the OSCE PA Vesna Markovic
Wednesday, 3 November 2021
Vesna Markovic Takes Part in OSCE PA Standing Committee Online Meeting
The Head of the NARS delegation to the OSCE PA Vesna Markovic took part the online meeting of the OSCE PA Standing Committee.
---
OSCE PA President Margareta Cederfelt welcomed the participants, drawing attention to the challenges faced by the OSCE region, with a special focus on the crisis in Afghanistan, Ukraine and the COVID pandemic.

The participants were then addressed by OSCE PA Secretary General Roberto Montella who presented the OSCE PA Annual Report.

In her address, Vesna Markovic stressed that though our societies still feel the impact of the COVID, the OSCE PA successfully continues with its activities. Speaking of OSCE PA Secretary General Roberto Montella's Report and the speech of OSCE PA President Margareta Cederfelt, she underlined the importance of parliamentary diplomacy. Markovic said she believed dialogues with government representatives and members of the OSCE PA are topics of importance for our societies and contribute to the strengthening of the role parliamentarians. One of the OSCE PA's goals should be, she said, to strengthen trust between the participating and partner countries, which can be achieved through an active dialogue on all topics.

Vesna Markovic also took the opportunity to draw attention to the problem of migration in Serbia, as it is on the migrant route, stressing that cooperation with fellow parliamentarians from countries that face the same problem would be mutually beneficial. Taking all of this into account, the OSCE PA Committee on Migration will play a particularly important role in finding a solution to this issue.


---
---
sunday, 1 october
No announcements for selected date