National Assembly of the Republic of Serbia / Activities / Activity details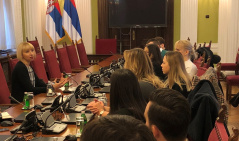 10 February 2020 MP Vesna Markovic in meeting with the representatives of the Atlantic Council
Monday, 10 February 2020
Vesna Markovic Emphasizes Importance of Regional Connectivity and Cooperation
MP Vesna Markovic held a meeting at the National Assembly House, organized by the Atlantic Council of Serbia, with representatives of the Atlantic Council from Montenegro, Croatia and Serbia to discuss the state-of-play of EU enlargement.
---
Markovic briefed the guests on Serbia's foreign policy goals, EU accession and advancement of political and economic cooperation in the region through numerous regional initiatives the Serbian Assembly contributes to. She emphasized the importance of EU accession despite the Union's internal challenges.
The MP also stressed the importance of cooperation with the North Atlantic Treaty Organization primarily in the interest of freedom of movement and the security of the Serbian people in Kosovo-Metohija and the protection of Serbian religious and cultural structures.
The representatives of the Atlantic Council had questions about the challenges Serbia is faced with on the path to the EU and the public opinion on the Union and NATO, as well as whether and how Brexit influenced Serbia's Euro-integration process.


---
---
friday, 3 february
11.00 - continuation of the Third Special Sitting of the National Assembly of the Republic of Serbia, 13th Legislature (National Assembly House, 13 Nikola Pasic Square)

12.00 - press conference of the MPs of the People's Party Parliamentary Group (National Assembly House, 13 Nikola Pasic Square, Central Hall)

14.00 - sitting of the Committee on Constitutional and Legislative Issues (National Assembly House, 13 Nikola Pasic Square, hall 2)

15.30 - press conference of MP Dragan Nikolic (National Assembly House, 13 Nikola Pasic Square, Central Hall)