National Assembly of the Republic of Serbia / Activities / Activity details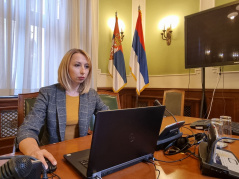 8 October 2021 The Head of the National Assembly's delegation to OSCE PA Vesna Markovic
Friday, 8 October 2021
Vesna Markovic Elected Vice-President of European People's Party (EPP) Group in OSCE PA
Vesna Markovic, MP of the Serbian Progressive Party and Head of the Serbian National Assembly's delegation to the Parliamentary Assembly of the Organization for Security and Co-operation in Europe (OSCE), was elected Vice-President of the European People's Party (EPP) parliamentary group in the OSCE Parliamentary Assembly today.
---
The decision was made at the EPP video conference, chaired by OSCE PA President Margareta Cederfelt. The other four vice-presidents are representatives from Austria, the UK, France and Ukraine. Vilija Aleknaite Abramikiene from Lithuania was elected President of the EPP Group in the OSCE PA.
The EPP is the largest and most influential European group of center-right parties and currently boasting 83 members from 43 countries. The current presidents of the European Commission and the European Council, 10 members of the European Commission, as well as 11 heads of state and government of EU member states and six leaders of non-EU countries come from the ranks of the EPP. The EPP is also the largest group in the European Parliament. The Serbian Progressive Party is an associate member of the EPP. The OSCE is a security organization with 57 member states from North America, Europe and Asia. The main objectives of the OSCE are to promote stability, peace and democracy.
---
---
sunday, 1 october
No announcements for selected date