National Assembly of the Republic of Serbia / Activities / Activity details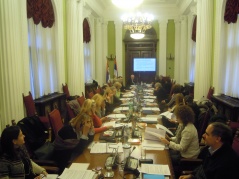 11 December 2012 Participants of the workshop on the guidelines for conducting and organising public hearings
Tuesday, 11 December 2012
Two-Day Workshop Held on Guidelines for Conducting and Organising Public Hearings
On 10 and 11 December, the National Assembly House hosted a two-day workshop with the topic Guidelines for Conducting and Organising Public Hearings, for the National Assembly Service employees. The Service employees were briefed on the work of the service of the UK Parliament's lower house and exchanged various experiences related to the institute of public hearing.
---
On the first day, 10 December, the participants discussed the commonalities and differences in the two parliaments' work, with a focus on the so-called Westminster system. The lecturer, officer of the UK Parliament's lower house, Alistair Doherty presented the relationship between the Government and the Parliament, then the UK Parliament's scrutiny committees, and also spoke of the system of departmental committees i.e. committees divided by sphere, in the House of Commons. Alistair Doherty stressed that one of the key characteristics of the departmental select committees i.e. committees divided by sphere, is a relatively small number of members, usually 11, also adding that the chairpersons of the committees come from all the parties so it is safe to conclude that the parties are proportionally represented in them. Their task is to analyse the ministries' and European Commission's policy proposals, monitor the ministries' work, as well as that of the agencies. Departmental committees make decisions by consensus, and they are tasked with analysing draft laws, the implementation of regulations, as well as analyse important public appointments i.e. appointments to public functions. Some of the interesting elements of these committees' work are the possibility of using e-consultations and including the media in the search for a solution to certain issues, added Doherty.
On the second day, 11 December, the participants exchanged experiences in organising and conducting public hearings. They also discussed promoting public hearings in the committees, different types of public hearings, and the funds and capacities needed to conduct them successfully. The employees of the National Assembly Service presented their experiences regarding the institute, stressing that public hearings have greatly contributed to the adoption of conclusions at committee sittings. The participants of the workshop and guests also discussed the preparation, detailed research and good information and ensuring the technical tools for a successful implementation of a public hearing. They also talked about the preparation of committee reports, report style and structure, structure of concise documentation, as well as the writing of brief supportive instructions.
The workshop on the Guidelines for Conducting and Organising Public Hearings was held with the support of the Westminster Foundation for Democracy.

---
---
tuesday, 29 september
No announcements for selected date