National Assembly of the Republic of Serbia / Activities / Activity details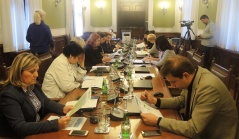 1 October 2015 The third meeting of the Parliamentary Group for Open Parliament
Thursday, 1 October 2015
Third Meeting of the Parliamentary Group for Open Parliament
At the third meeting, the members of the Parliamentary Group for Open Parliament were informed about the National Assembly representatives Prof. Dr Vladimir Marinkovic and Dubravka Filipovski's participation in the conference of the Open Government Partnership's Legislative Openness Working Group with the topic "Committing to Openness: Parliamentary Action Plans, Standards and Data", held on 14 and 15 September in Tbilisi, Georgia.
---
Prof. Dr Vladimir Marinkovic said that the conference in Georgia provided an excellent opportunity to exchange experiences on parliamentary transparency, which he believes will greatly contribute to the drafting of a high-quality strategy on parliamentary openness as a precursor to a Convention Parliamentary Openness. In the course of the visit, Marinkovic said that the idea of Belgrade possibly hosting the next conference on International Day of Democracy in September 2016 was one of the topics discussed.

The members of the Parliamentary Group were then informed about the activities planned for the Week of Parliamentarism and discussed how the MPs and the working bodies could participate in the event.

On the behalf of the City of Belgrade, Deputy Chairperson of the City Assembly Andreja Radulovic, who attended the meeting along with city councillor Mirko Rajkovic, invited the Group members to participate both in the organisation of the Week of Parliamentarism, as well as in future actions. She said that the coming event once again shows that Belgrade is an open city, adding that she was sure the Week of Parliamentarism will prompt the citizens to take part in democratic processes.

The meeting was attended by MPs Aida Corovic, Olena Papuga, Dubravka Filipovski, Gordana Comic, Dusica Stojkovic and Ljiljana Kosoric, representatives of CRTA, OSCE and the National Assembly Support Service, and was chaired by Prof. Dr Vladimir Marinkovic.


---
---
wednesday, 8 july
13.00 - press conference of MPs Sasa Radulovic, Branka Stamenkovic and Vojin Biljic (National Assembly House, 13 Nikola Pasic Square, Central Hall)

13.45 - press conference of MP Prof. Dr Miladin Sevarlic (National Assembly House, 13 Nikola Pasic Square, Central Hall)

14.20 - press conference of MP Djordje Vukadinovic (National Assembly House, 13 Nikola Pasic Square, Central Hall)