National Assembly of the Republic of Serbia / Activities / Activity details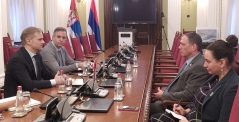 2 November 2022 The Chairman of the Foreign Affairs Committee in meeting with the Israeli Ambassador to Serbia
Wednesday, 2 November 2022
Stefanovic Clear in Position that Serbia Must Align Its Foreign Policy with EU Foreign Policy
In two separate meetings today, with the Israeli Ambassador to Serbia H.E. Yahel Vilan and the political advisor at the United Nations Belgrade Office Yevgeniy Razdorozhny, the Chairman of the Foreign Affairs Committee Borko Stefanovic declared it vital that Serbia align its foreign policy with that of the European Union.
---
Answering his guests' questions, Stefanovic said that the opposition is heading five committees of the National Assembly's 13th legislature, the Foreign Affairs Committee being one of them. Issues within this Committee's scope, he emphasised, are at present some of the most important ones both for Serbia and the region. He stressed that he would raise the issue of aligning Serbia foreign policy with that of the European Union with the Committee, as well as with the MPs, and the matter of its being accepted or rejected would clearly show which course Serbia has chosen to pursue.
Both Ambassador Vilan and UN representative Razdorozhny wanted to know more about the talks between Belgrade and Pristina from the perspective of the Chairman of the National Assembly's Foreign Affairs Committee, and Stefanovic said that the dialogue is stagnating, but that there is a solution to this open issue, one that would pacify both sides and reduce similar tensions in the region. He explained that it would be most effective if both sides signed an agreement which abandons the politics of symbolism and covers all the obstacles that hinder the dialogue, except for mutual recognition. He restated that Serbia should not be required to recognize so-called Kosovo, however, a mutual solution needs to be found as soon as possible. Stefanovic stressed that in politics, every country should be led by its own interests, so Serbia should stop being led by emotions and pursue the interest of its citizens.
The officials also spoke about the region's energy diversification and stabilisation. The Committee Chairman said that this undertaking would require EU support as well as a sizeable budget which would enable the energy import from different countries.
With Ambassador Vilan, Stefanovic spoke about the current parliamentary elections in Israel, potential changes in the government, as well as an exchange of parliamentary visits once the Knesset is constituted.
The political advisor at the United Nations Belgrade Office Yevgeniy Razdorozhny was particularly interested in the Foreign Affairs Committee's mode of operation, as well as the cooperation between the National Assembly committees and MPs from different political parties. Stefanovic praised the constructive cooperation in the Foreign Affairs Committee, adding that he hoped for a fruitful cooperation with the competent minister of the Government of the Republic of Serbia. Stefanovic and Razdorozhny also discussed Kosovo-Metohija's potential membership in the United Nations, which the Committee Chairman said was unacceptable for Serbia, opining that this issue should be tackled on the international level.
---
Photo gallery
---
---
friday, 27 january
8.30 - the National Assembly Speaker meets with the EP Rapporteur for Serbia and a member of the EU - Serbia SAPC delegation (National Assembly House, 13 Nikola Pasic Square, hall 1)

9.00 - sitting of the Committee on the Judiciary, Public Administration and Local Self-Government (National Assembly House, 13 Nikola Pasic Square, hall 2)

10.00 - the MPs meet with the EP Rapporteur for Serbia and a member of the EU - Serbia SAPC delegation (National Assembly House, 13 Nikola Pasic Square, Small Hall)

12.15 - press conference of MP Prof. Dr Tamara Milenkovic Kerkovic (National Assembly House, 13 Nikola Pasic Square, Central Hall)