National Assembly of the Republic of Serbia / Activities / Activity details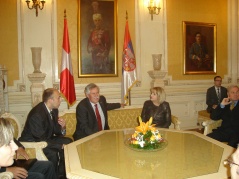 9 April 2012 National Assembly Speaker Prof. Dr Slavica Djukic Dejanovic in meeting with the President of the National Council of Switzerland
Monday, 9 April 2012
Speaker Talks to Swiss National Council President
The Speaker of the National Assembly of the Republic of Serbia, Prof. Dr Slavica Djukic Dejanovic, acting President of the Republic of Serbia, spoke to the President of the National Council of Switzerland Hansjörg Walter, in visit to Serbia at her invitation.
---
The two heads of parliament expressed their shared belief that the level of political relations between the two countries would be followed by stronger economic and parliamentary relations. Hansjörg Walter said that Swiss companies have conveyed truly positive impressions of the political climate and investment conditions in Serbia. According to him, the Swiss people and government are amazed at Serbia's progress, and Switzerland, as a neutral country, greatly values the political stability in Serbia as it provides the basis for further development.
National Assembly Speaker Slavica Djukic Dejanovic stated that political stability acts a stimulus for investors, adding that representatives of Swiss companies in Serbia are a good indicator of economic cooperation. As regards false asylum-seekers, Speaker Djukic Dejanovic said that the number of such asylum-seekers is on the rise in Serbia as well and that the problem cannot be tied to one country alone because the issue knows no borders and has to be addressed as such.
The President of the Swiss National Council Hansjörg Walter said that the international community most probably would not launch any new projects relating to Dick Marty's report on illegal organ trade in Kosovo.
Speaker Djukic Dejanovic deemed the establishment of friendship groups important for the development of parliamentary cooperation.

---
---
wednesday, 4 october
9.00 - sitting of the Committee on Finance, State Budget and Control of Public Spending (National Assembly House, 13 Nikola Pasic Square, hall 2)

10.00 - the National Assembly Speaker meets with the Chinese Ambassador to Serbia (National Assembly House, 13 Nikola Pasic Square, hall 1)

12.00 - sitting of the Culture and Information Committee (National Assembly House, 13 Nikola Pasic Square, hall 4)