National Assembly of the Republic of Serbia / Activities / Activity details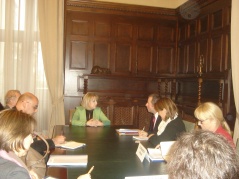 18 April 2012 National Assembly Speaker Prof. Dr Slavica Djukic Dejanovic with the delegation of the Pre-election Observation Mission of the Parliamentary Assembly of the Council of Europe
Wednesday, 18 April 2012
Speaker Meets with PACE Pre-election Observation Mission Delegation
The Speaker of the National Assembly of the Republic of Serbia, Prof. Dr Slavica Djukic Dejanovic, acting President of the Republic of Serbia, spoke with the members of the Pre-election Observation Mission of the Parliamentary Assembly of the Council of Europe, headed by Jean Charles Gardetto.
---
The delegation members were interested in the election process as a whole with a special focus on voters' participation, minorities, role of the media and possible result estimates. They also wanted to know about the chances for future coalitions, particularly the pre-existing ones as well as the potentials for creating new ones.
The Speaker provided detailed information on the entire election process. She declared the atmosphere of the pre-election campaign adequate, saying that all the parties are trying to present the maximum of their programmes in order to sway voters. The media campaign will be conducted within legal boundaries and according to the parties' potentials.
Slavica Djukic Dejanovic explained the amendments to the electoral legislation with a special focus on the fact that the new NARS legislation would comprise more women as stipulated by the law.

---
---
wednesday, 4 october
9.00 - sitting of the Committee on Finance, State Budget and Control of Public Spending (National Assembly House, 13 Nikola Pasic Square, hall 2)

10.00 - the National Assembly Speaker meets with the Chinese Ambassador to Serbia (National Assembly House, 13 Nikola Pasic Square, hall 1)

12.00 - sitting of the Culture and Information Committee (National Assembly House, 13 Nikola Pasic Square, hall 4)