National Assembly of the Republic of Serbia / Activities / Activity details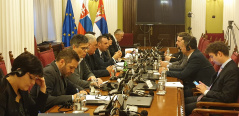 26 February 2019 The members of the Committee on Kosovo-Metohija in meeting with the delegation of the Slovak Parliament's European Affairs Committee
Tuesday, 26 February 2019
Slovakia Will Not Recognize Kosovo and Continues to Support Serbia's European Path
"The Slovak Republic will not recognize Kosovo and will continue to support Serbia on the path to the EU. Serbia is an important partner for us and we will do all in our power to support your just fight because you have been done a historic injustice", said Lubos Blaha, Chairman of the Slovak Parliament's European Affairs Committee, in the meeting with the members of the Committee on Kosovo-Metohija.
---
He said that no pressures would change his country's stance because the issue in question is of national importance and contrary to international law.

Committee member Aleksandar Markovic said he was very happy to receive the guests from Slovakia, a country with which Serbia enjoys a traditional friendship marred with no outstanding issues. He thanked Slovakia for its support of Serbia's European integration and especially for its principled stance on Serbia's territorial integrity and sovereignty.
"We are especially grateful to Slovakia for voting against so-called Kosovo's UNESCO bid and for the excellent parliamentary cooperation which I hope will be intensified in the days to come", said Markovic.
He presented the Committee's scope and duties, especially the results of the Working Group for the Collection of Facts and Evidence for the Investigation of Crimes Committed against Serbs and Other National Communities in Kosovo-Metohija and cooperation with the relevant state institutions, especially the Office for Kosovo-Metohija.
Markovic said that the position and life of Serbs and non-Albanians in Kosovo-Metohija is hard, especially in the enclaves where it is a cause of grave concern. However, the image of Serbs in the international community has started to change as evidence by the fact that 13 countries had revoked their recognition of Kosovo.
He added that the establishment of Kosovo Army is in direct violation of all international regulations, UNSC Resolution 1244 and even the constitution of the so-called state of Kosovo. Markovic added that the Belgrade-Pristina dialogue has been suspended and will not be continued until the 100% customs taxes on goods from Serbia and Bosnia and Herzegovina are revoked, stressing that Serbia has not imposed any reciprocal measures and again appealed to all the relevant factors in the world to denounce the act.
"Serbia is committed to military neutrality, regional peace and stability. It is our wish to have a friendly relationship with the big powers - the US, Russia and China, and also become a member of the EU", said Markovic.
The meeting, also attended by Committee members Aleksandar Cotric, Mirko Krlic, Gordana Comic and Bozidar Delic, focused on the transformation of the Kosovo armed forces, Serbia's relationship with the US and the US administration's policy toward Serbia, the position of Serbs in Kosovo-Metohija and the future of the Belgrade-Pristina dialogue.


---
---
wednesday, 23 june
9.00 - sitting of the Committee on Education, Science, Technological Development and the Information Society (National Assembly House, 13 Nikola Pasic Square, hall 3)

9.00 - sitting of the Agriculture, Forestry and Water Management Committee (National Assembly House, 13 Nikola Pasic Square, hall 4)

9.30 - sitting of the Defence and Internal Affairs Committee (National Assembly House, 13 Nikola Pasic Square, hall 2)

10.00 - Sixth Extraordinary Session of the National Assembly of the Republic of Serbia, 12th Legislature (National Assembly House, 13 Nikola Pasic Square)

11.00 - meeting of the Parliamentary Digital Security Network (National Assembly House, 13 Nikola Pasic Square, hall 2)

14.00 - the PFG with Malaysia meets with the Head of Mission of the Malaysian Embassy in Serbia (National Assembly House, 13 Nikola Pasic Square, hall 4)