National Assembly of the Republic of Serbia / Activities / Activity details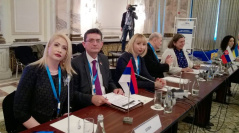 20 March 2019 Sixth Conference of Parliamentarians from the Danube Region
Wednesday, 20 March 2019
Sixth Conference of Parliamentarians from the Danube Region
The Sixth Conference of Parliamentarians from the Danube Region is being hosted by the Romanian Parliament in Bucharest, on 20-21 March 2019.
---
The National Assembly delegation attending the Conference comprises National Assembly Deputy Speaker Veroljub Arsic, European Integration Committee member Vesna Markovic and member of the Committee on Labour, Social Issues, Social Inclusion and Poverty Reduction Sandra Bozic.
The Conference is attended by the members of the national parliaments of EU member states taking part in the realization of the EU Strategy for the Danube Region (Germany, Romania, Hungary, the Czech Republic and Croatia) and five non-EU members taking part in the Strategy (Serbia, Bosnia and Herzegovina, Montenegro, Moldova and Ukraine).
The topic of this year's Conference is the Danube as a tourist brand and developing cooperation between the countries of the Danube region by stimulating the development of the knowledge society and information technologies.
National Assembly Deputy Speaker Veroljub Arsic is the keynote speaker on the topic: Developing the knowledge society through research, education and information technologies.
Deputy Speaker Arsic said that the Serbian Government had in November 2017 adopted the IT Industry Development Strategy with the following strategic priorities: development of successful IT enterprises and products, creation of an administrative environment conducive to the development of IT industry, advancing staffing potentials and modernization of business transactions in all the branches fo the economy. The Strategy, which is already being implemented, offers incentives for investment into start-ups, covers the cost of venturing onto foreign markets and tax policy measures.
The Government is currently drafting a Smart Specialization Strategy to choose, based on a qualitative and quantitative analysis, priority development sectors. The goal is to make a new development model for Serbia based on support of innovation and high technologies.
He also urged the parliamentarians from the Danube Region to take an active role in supporting and the realization of Danube Strategy projects by exchanging best practices and using the available EU funds.
The participants of the Conference will adopt a Joint Declaration.


---
---
wednesday, 26 february
10.00 - continuation of the 26th Extraordinary Session of the National Assembly of the Republic of Serbia, 11th Legislature (National Assembly House, 13 Nikola Pasic Square)

10.30 - sitting of the Committee on Constitutional and Legislative Issues (National Assembly House, 13 Nikola Pasic Square, hall 3)

11.00 - the members of the PFG with the United Arab Emirates meet with the UAE Ambassador to Serbia (National Assembly House, 13 Nikola Pasic Square, hall 2)

11.00 - press conference of MP Milija Miletic (National Assembly House, 13 Nikola Pasic Square, Central Hall)

13.30 - press conference of MP Tatjana Macura (National Assembly House, 13 Nikola Pasic Square, Central Hall)

14.15 - press conference of MP Enis Imamovic (National Assembly House, 13 Nikola Pasic Square, Central Hall)