National Assembly of the Republic of Serbia / Activities / Activity details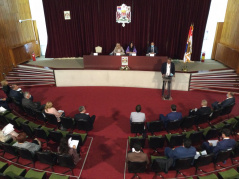 2 June 2021 The participants of the public hearing
Wednesday, 2 June 2021
Seventh Public Hearing on Changes to Constitution in Field of Judiciary
The Committee on Constitutional and Legislative Issues organised the seventh public hearing on the changes to the Constitution of the Republic of Serbia in the field of the judiciary in the Kragujevac City Assembly.
---
The Chairperson of the Committee on Constitutional and Legislative Issues Jelena Zaric Kovacevic greeted the representatives of courts, prosecutors and the Kragujevac who attended the public hearing, and thanked National Assembly Deputy Secretary General Branko Marinkovic for his support and attendance.
The Mayor of the City of Kragujevac Nikola Dasic welcomed everybody to the place where the first Constitution of the Principality of Serbia was passed – Sretenje Constitution ("Candlemas Constitution"). He also took the opportunity to thank the Government and the President of the Republic of Serbia Aleksandar Vucic for the support thanks to which Kragujevac is soon to get a brand new Palace of Justice.
Minister of Justice Maja Popovic, as the authorised representative of the proposer, also addressed the attending, saying that the proposed changes to the Constitution are envisaged as an activity in the Negotiation Chapter 23 Action Plan adopted by the Government of the Republic of Serbia on 27 April 2016 and revised on 10 July 2020. They are the most significant reform concerning the rule of law, a core value of any democratic society and one of the priorities of the European Union, the Minister pointed out.
The Republic of Serbia was supposed to analyse the existing provisions of the Constitution from the standpoint of general acceptance of European and international standards, expressed through documents of the European Union, United Nations, Council of Europe, especially the Venice Commission, as well as the Group of States against Corruption (GRECO), European Commission for the Efficiency of Justice CEPEJ,
Consultative Council of European Judges, Consultative Council of European Prosecutors and the European Network of Councils for the Judiciary, stated Popovic.
She said that after the analysis, it was determined that the provisions of the Constitution in the field of judiciary need to be changed in order to implement a better system for proposing, electing, transferring and terminating the judicial office of judges, court presidents, public prosecutors and deputy public prosecutors. This would allow the entry into the judiciary to be based on objective evaluation criteria, fair selection procedures, openness to all appropriately qualified candidates and transparency to the general public.
The responsibility of the High Judicial Council and State Prosecutorial Council needs to be heightened, as well as that of judges and public prosecutors, as this would lead to the creation of a better judiciary, stressed the Minister, adding that this greater responsibility could be encouraged by prescribing the permanence of office.
In the ensuing discussion the attending exchanged opinions, views and constructive proposals concerning the proposed constitutional changes in the field of justice.
---
Committees related to this activity
---
Photo gallery
---
---
saturday, 4 february
8.30 - sitting of the Committee on Education, Science, Technological Development and the Information Society (National Assembly House, 13 Nikola Pasic Square, hall 3)

9.00 - sitting of the Committee on Labour, Social Issues, Social Inclusion and Poverty Reduction (National Assembly House, 13 Nikola Pasic Square, hall 4)

9.00 - sitting of the Defence and Internal Affairs Committee (National Assembly House, 13 Nikola Pasic Square, hall 2)