National Assembly of the Republic of Serbia / Activities / Activity details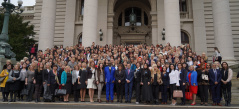 14 December 2019 Participants of the Seventh National Conference of the Women's Parliamentary Network
Saturday, 14 December 2019
Seventh National Conference of the Women's Parliamentary Network
The Seventh National Conference of the Women's Parliamentary Network entitled "Not In My Parliament" began with a minute of silence for the victims of domestic violence. WPN Coordinator Olena Papuga greeted the over 300 participants from local self-governments, NGOs and national minority councils. She stressed that domestic violence affects all structures, regardless of age, place or education which is why it is the conference's goal to come to conclusions that women MPs can champion to be included into future laws concerning the prevention of violence and the gender equality struggle.
---
The conference featured four panels, with WPN members Elvira Kovacs, Gordana Comic, Dubravka Filipovski, Ljupka Mihajlovska, Marija Janjusevic, Marija Jevdjic, Marija Obradovic, Nada Lazic, Natasa Mihajlovic, Olena Papuga, Stefana Miladinovic and Tatjana Macura speaking at the panel on "Thematic dialogue on sexism, persecution, discrimination and verbal abuse of women".
In the panel on the CEDAW recommendations for Serbia the participants discussed the activism in local self-governments concerning the application of the CEDAW recommendations in cooperation with the existing bodies and mechanisms for their implementation. WPN member Gordana Comic, Director of the Government's Office for Human and Minority Rights Suzana Paunovic, Standing Conference of Towns and Municipalities Gender Equality And Human Rights Advisor Natasa Okilj and the Chairperson of the Committee on Human and Minority Rights and Gender Equality Jasmina Karanac took part in the debate.
WPN member Nada Lazic, minister without portfolio Prof. Dr Slavica Djukic Dejanovic and Senior Advisor at the Office of the Commissioner for Gender Equality Jelena Kotevic spoke at the panel on "Sustainable Development Goals: Gender Equality" about the implementation of UN 2030 SDG 5 within the global strategic plan 2018-2021.
WPN member Stefana Miladinovic, Head of the eGovernment Department of the Ministry of Public Administration and Local Self-Government Dara Gravara Stojanovic, Djordje Antic of the Office of Local Economic Development and Projects of the City of Nis, assistant director of the Standardization and Certification Sector IT and eGovernment Office Dragana Becic and executive director of the Public Policy Research Centre Tanja Jakobi spoke at the panel "eGovernment: experience and practice".


---
---
thursday, 23 january
9.30 - sitting of the Committee on Constitutional and Legislative Issues (National Assembly House, 13 Nikola Pasic Square, hall 2)

10.00 - continuation of the 19th Extraordinary Session of the National Assembly of the Republic of Serbia, 11th Legislature (National Assembly House, 13 Nikola Pasic Square)

11.00 - sitting of the Committee on Finance, State Budget and Control of Public Spending (National Assembly House, 13 Nikola Pasic Square, hall 2)

14.00 - press conference of MP Bosko Obradovic (National Assembly House, 13 Nikola Pasic Square, Central Hall)

14.00 - sitting of the Foreign Affairs Committee (National Assembly House, 13 Nikola Pasic Square, hall 2)

14.15 - press conference of MP Miroslav Aleksic (National Assembly House, 13 Nikola Pasic Square, Central Hall)

15.00 - press conference of MP Nedjo Jovanovic (National Assembly House, 13 Nikola Pasic Square, Central Hall)

15.50 - press conference of MP Aleksandar Markovic (National Assembly House, 13 Nikola Pasic Square, Central Hall)