National Assembly of the Republic of Serbia / Activities / Activity details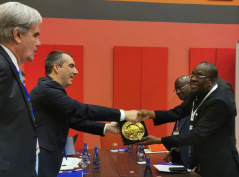 14 October 2022 The National Assembly Speaker and the Ghanaian Parliament Speaker
Friday, 14 October 2022
Serbian National Assembly Speaker and Ghanaian Parliament Speaker: Advancing Bilateral Relations on All Fronts
The Speaker of the National Assembly of the Republic of Serbia Dr Vladimir Orlic met today in Kigali, under the auspices of the 145th Assembly of the Inter-Parliamentary Union, with the Speaker of the Parliament of the Republic of Ghana Alban Sumana Kingsford Bagbin.
---
"The two countries share long years of cooperation and friendship, striving together to advance political relations and bilateral relations in all fields. The best proof of our results is the opening of the Serbian Embassy in Accra in July this year, which is the first embassy of our country open on the African continent in four decades", said Dr Orlic at the beginning of the meeting.
The Ghanaian Parliament Speaker expressed satisfaction at the long-standing mutual support and close ties between the two countries. "We have to work together and we are truly dedicated furthering cooperation", said Kingsford Bagbin.
Dr Orlic thanked Ghana for the decision to reconsider and withdraw the recognition of the unilaterally declared independence of so-called "Kosovo". He also expressed the expectation that Ghana would not support the acceptance of the fake state into international organisation and be on Serbia's side if the question is ever launched.
The officials also discussed the advancement of cooperation between the parliaments of Serbia and Ghana, as well as cooperation in the fields of agriculture, economy, energy, education and information technologies.
---
Photo gallery
---
---
saturday, 9 december
No announcements for selected date