National Assembly of the Republic of Serbia / Activities / Activity details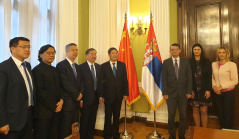 23 May 2019 National Assembly Deputy Speaker Veroljub Arsic and MPs Stefana Miladinovic and Tijana Davidovac with the delegation of the Chinese National People's Congress Ethnic Affairs Committee
Thursday, 23 May 2019
Serbia and China, Friendship of Steel
National Assembly Deputy Speaker Veroljub Arsic and MPs Stefana Miladinovic and Tijana Davidovac greeted the delegation of the Chinese National People's Congress Ethnic Affairs Committee.
---
Welcoming the Chinese delegation on the behalf of National Assembly Speaker Maja Gojkovic and himself, Arsic emphasized Serbia and China's 'friendship of steel' and strategic cooperation. The Deputy Speaker said he was very pleased by the Chinese delegation's comprehensive official visit which will, he said, encourage China and Serbia's cooperation to reach new heights. He took the opportunity to say that the exchange of high-tier visits between the two countries is at an all-time high, helped by the series of agreements and the cooperation on the construction of Kostolac B3 thermal power plant, Bor mining-smelting combine, construction of the Chinese pneumatics factory in Zrenjanin and many other investments.
He said that the 2016 strategic partnership agreement had contributed to development of national, regional and global significance. He added that Serbian President Aleksandar Vucic's recent participation in the Second Belt and Road Forum for International Cooperation, promoting peace and economic cooperation, speaks volumes of the excellent bilateral relations between Serbia and China.
Xiao Huaiyuan, head of the delegation of the Chinese National People's Congress Ethnic Affairs Committee, thanked the MPs for the welcome, agreeing that the relations between the two countries are at a historic high, supported by political understanding and rich economic cooperation. He stressed that the two countries owe their strong relations to their presidents whose example demonstrated how to build bilateral relations. Xiao Huaiyuan said that the aim of the visit is to promote and strengthen friendly relations between the two parliaments and the committees in charge of the same or similar issues.
Arsic said that Serbia is home to 28 officially recognized national minorities, some of which live only in the Republic of Serbia. Serbia can be proud of its legislation on the matter both in the region and Europe. Every national minority has its representatives in their respective national minority councils and the national budget secures funds to help preserve their languages, culture and customs. Xiao Huaiyuan said that the People's Republic of China has 56 ethnic groups, 55 of which are national minorities, adding that this could be another venue of cooperation.
Finally, Arsic thanked China for its support of Serbia's sovereignty and territorial integrity and in so-called Kosovo's UNESCO and INTERPOL bids. He said that this is testament of China's true friendship, adding that Serbia does not endorse the international declarations concerning China's internal organization and believes that Taiwan and mainland China are an integral part of the People's Republic of China. Xiao Huaiyuan thanked Serbia for its principled stance on the matter, stating that China's stance on the Autonomous Province of Kosovo-Metohija will remain unchanged.


---
---
saturday, 4 july
No announcements for selected date