National Assembly of the Republic of Serbia / Activities / Activity details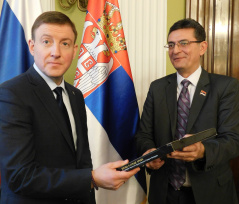 18 March 2019 National Assembly Deputy Speaker Veroljub Arsic and Deputy Chairman of the Russian Federation Council Andrei Turchak
Monday, 18 March 2019
Serbia-Russia Relations at All-Time High
"Serbia-Russia relations are at an all-time high and it is my pleasure to see that they are still getting better", said National Assembly Deputy Speaker Veroljub Arsic today at the meeting with the Deputy Chairman of the Russian Federation Council Andrei Turchak.
---
He added that the bilateral relations have reached the highest level in all areas, taking the opportunity to mention that Serbia is one of the countries that had not imposed sanctions against the Russian Federation in 2014.
"That was not just a political decision, but also the wish of the Serbian people and was never brought into question."
He went on to praise the economic, cultural, scientific and defence cooperation as one few countries can say to have with the Russian Federation.
Arsic again thanked Russia for its principled stance on Serbia's sovereignty and territorial integrity. He opined that by respecting international law and the UN Charter, the Russian Federation had shown itself to be a true friend to Serbia. He also assured his Russian counterpart of Serbia's standing commitment to military neutrality.
The Deputy Chairman of the Russian Federation Council Andrei Turchak said that Russia has always supported Serbia, especially during the 1999 bombing when the Federation Council denounced it as an act of aggression against a sovereign European state.
"Russia has, does and will continue to stand with Serbia and we will continue to advance cooperation at all levels even though our relations are deep and historical and the interparliamentary cooperation at a high level", said Turchak. He also said that Serbia's commitment to military neutrality is very important to Russia.
MA Milovan Drecun, Head of the PFG with Russia and Chairman of the Committee on Kosovo-Metohija, member of the Defence and Internal Affairs Committee and Head of the Serbian delegation to CSTO, said that Serbia and Russia should continue to advance and modernize their relations. He said that the two countries face the same security threats and are building the capacities to oppose them together. He stated that Serbia is committed to military neutrality even though it is advancing its relations with NATO through the Partnership for Peace. Drecun also thanked the Russian Federation for its support on the Kosovo-Metohija issue.
He reminded the guest that the Serbian and Russian parliamentary friendship groups had signed a protocol of cooperation which is just a fraction of the potential parliamentarians have to contribute to the advancement of economic cooperation and connectivity of the region.


---
---
thursday, 2 july
13.00 - press conference of MPs Sasa Radulovic, Branka Stamenkovic and Vojin Biljic (National Assembly House, 13 Nikola Pasic Square, Central Hall)