National Assembly of the Republic of Serbia / Activities / National Assembly / Working Bodies / Committee Sittings outside of the National Assembly Seat / Details of the Committee sitting
Committee Sittings outside of the National Assembly Seat

Majdanpek
Thursday, 29 September 2022
Second Sitting of the Environmental Protection Committee
On 29 September 2022, the Environmental Protection Committee held its second sitting outside of the National Assembly seat in Majdanpek.
---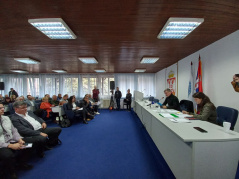 29 September 2022 Second Sitting of the Environmental Protection Committee
The Committee considered the justification of the demolition of the foothills of Mt.Starica in Majdanpek from the aspect of environmental protection, existing regulations and professional standards.
The sitting was attended by Prof. Dr Lazar Kricak, full professor of the Belgrade Faculty of Mining and Geology involved in the slope rehabilitation project, Sasa Mitrovic, Chief of the Bor Police Administration and colleagues, Sreten Djordjevic, lawyer, Nikola Popovic, member of the University of Belgrade Environmental Protection Committee, "Green Chair" representative Milos Djajic of the Centre of Modern Skills, as well as Majdanpek Municipal Assembly councillors and citizens of Majdanpek.
The sitting outside of the National Assembly seat was held with the support of project "Strengthening Parliamentary Democracy and Inclusive Political Dialogue", conducted by UNDP with the support of Switzerland.
The sitting was chaired by Committee Chairman Aleksandar Jovanovic, and attended by the following Committee members and deputy members: Dejan Bulatovic, Ivana Parlic, Prof. Dr Branimir Jovancicevic, Prof. Dr Djordje Pavicevic and Milinka Nikolic.
Majdanpek: Photo gallery
Other sessions of this committee
Contact the National Assembly Committee

Committee meetings outside the headquarters of the National Assembly are being organized and this sub-site has been produced with the support of the United Nations Development Program (UNDP) and the Swiss Agency for Development and Cooperation (SDC), as part of the project "Strengthening the oversight role and publicity in the work of the National Assembly." The views and content on this subpage do not necessarily represent the views of UNDP and the SDC.