National Assembly of the Republic of Serbia / Activities / National Assembly / Working Bodies / Committee Sittings outside of the National Assembly Seat / Details of the Committee sitting
Committee Sittings outside of the National Assembly Seat

Loznica
Friday, 25 November 2022
Fifth Sitting of the Environmental Protection Committee
On 25 November 2022, the Environmental Protection Committee held a sitting outside of the National Assembly seat in Loznica City Assembly.
---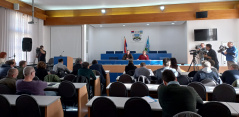 25. November 2022. Fifth Sitting of the Environmental Protection Committee
As it lacked a decision-making quorum, the attending Committee members discussed the topic: Rio Tinto – Project "Jadar" – for and against.
The sitting was attended by Committee Chairman Aleksandar Jovanovic and Committee members Ivana Parlic, Branimir Jovanicevic, Radomir Lazovic and Enis Imamovic.
The sitting outside of the National Assembly seat was held with the support of project "Strengthening Parliamentary Democracy and Inclusive Political Dialogue", conducted by UNDP with the support of Switzerland.
Loznica: Photo gallery
Other sessions of this committee
Contact the National Assembly Committee

Committee meetings outside the headquarters of the National Assembly are being organized and this sub-site has been produced with the support of the United Nations Development Program (UNDP) and the Swiss Agency for Development and Cooperation (SDC), as part of the project "Strengthening the oversight role and publicity in the work of the National Assembly." The views and content on this subpage do not necessarily represent the views of UNDP and the SDC.