National Assembly of the Republic of Serbia / Activities / Activity details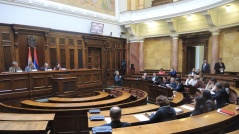 14 November 2016 Second public hearing on "Systemic solutions for the environment – Serbia 2017-2027, defining the problems"
Monday, 14 November 2016
Second Public Hearing on "Systemic Solutions for the Environment – Serbia 2017-2027, Defining the Problems"
Today, the National Assembly House hosted the second public hearing with the topic "Systemic solutions for the environment – Serbia 2017-2027, defining the problems", organised by the Environmental Protection Committee.
---
The participants discussed the management, flow and storage of hazardous waste, identifying the problems and proposing systemic solutions which would lead to an improvement of environmental protection in the field.

Among other things, the participants touched on the treatment of infective medical waste, identifying such problems as dealing with 5000 tons of waste per year which is only partially treated on the territory of the Republic of Serbia. The attending defined improving the control of hazardous waste movements, boosting inspections, classification of waste management operators and registration of institutions that produce hazardous waste as possible solutions to the systemic waste management problems.

The public hearing also dealt on the manner of classification and treatment of animal by-products, proposing the introduction of incineration plants operating at a temperature of 1200 -1600 degrees Celsius, which would minimise air pollution.

The Chairman of the Environmental Protection Committee thanked the attending for their participation and suggestions adding that they will receive reports from the meeting, and announced that the next public hearing on defining environmental problems will be organised next week, with the end goal being new legislation in the area.

The public hearing was attended by numerous NGOs, representatives of the Ministry of Agriculture And Environmental Protection and the members of the Environmental Protection Committee.


---
Committees related to this activity
---
Video (1)
Monday, 14 November 2016 | javno slušanje: Sistematska rešenja u životnoj sredini – Srbija 2017-2027- definisanje problema 14.11.2016.
---
---