National Assembly of the Republic of Serbia / Activities / Activity details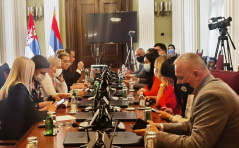 29 April 2021 Second meeting of the Parliamentary Digital Security Network
Thursday, 29 April 2021
Second Meeting of the Parliamentary Digital Security Network
At the second meeting of the Parliamentary Digital Security Network, the Network Chairperson and members discussed ideas and solutions that would contribute to the protection of children on the Internet.
---
At the beginning of the meeting, Chairperson Katarina Rakic presented the idea of expanding the Parliamentary Digital Security Network throughout Serbia, to the cities and local governments. "Unfortunately, there is no place in Serbia that is not endangered, which is why it would be useful to establish an office or instruct certain people at the local level to deal with this topic", said Rakic. According to her, it would be good for the members of the network to visit districts, cities, municipalities and villages in order to raise awareness and educate citizens on the topic of digital security.
Rakic suggested organising trainings, primarily for parents, to raise awareness among them on the harmful consequences the use of the Internet can have on children. She added that the establishment of an office at the level of local self-governments or districts would be useful and that funds for it should be provided in the 2022 budget. Accordingly, she proposed considering and establishing a fund, with the Ministry of Trade, Tourism and Telecommunications, or forming an independent fund that would be controlled by the Network.
Rakic pointed out that Network's key goal is to introduce digital security as a subject in preschool and primary education and suggested that the Parliamentary Digital Security Network hold meetings with the parliamentary committees once a month and by lodging amendments to the existing legislation on this topic contribute to the protection of children on the Internet.
In the ensuing debate, Network members Jelena Zaric Kovacevic, Jasmina Karanac, Adam Sukalo, Goran Pekarski, Tomislav Jankovic and Ana Carapic jointly opined that public hearings on this topic are very useful and suggested forming a public register of certified trainers who could hold lectures on the topic. As they stated, teachers and school principals, as well as representatives of relevant ministries, would have a big role in solving problems in this area.
The meeting was also attended by UNDP representatives Drazen Maravic and Nenad Grsic, who pointed out the pros and cons of using the Internet. They stressed that, above all, children should learn to protect their privacy in order to protect themselves from harmful content on the Internet. They added that children can be educated and make friends via the Internet, which is useful in the COVID-19 pandemic where socialising is reduced to a minimum. The participants of the meeting opined that a media campaign on this topic could greatly contribute to solving the abovementioned problems and raising awareness among children and parents.
At the end of the meeting, the Network members unanimously endorsed the membership of MPs Tomislav Jankovic, Nevena Vujadinovic, Mladen Boskovic and Boris Bursac in the Parliamentary Digital Security Network.
---
---
saturday, 21 may
No announcements for selected date