National Assembly of the Republic of Serbia / Activities / Activity details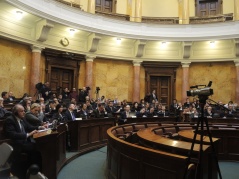 25 November 2013 Participants of the public hearing
Monday, 25 November 2013
Public Hearing on Integration Processes in the Euro-Asian Region and Perspectives for Cooperation with Serbia
Today, the National Assembly House hosted a public hearing on "Integration processes in the Euro-Asian region and perspectives for cooperation with Serbia", organised by the Foreign Affairs Committee.
---
Opening the public hearing, Foreign Affairs Committee Chairman Milos Aligrudic said that the integration processes and Serbia's opportunities for economic cooperation with the states of the Euro-Asian region open up new perspectives for Serbia's economic development. Aligrudic stressed that Euro-Asian integration is not a political project, but one based in economic pragmatism.
In his opening address, National Assembly Deputy Speaker and Head of the Parliamentary Friendship Group with Russia Dr Nenad Popovic stressed that Serbia needs foreign policy alternatives and foreign trade diversification. He drew attention to the growing importance and influence of Euro-Asian integration and the considerable economic potential of Serbia's cooperation with the region.
The participants of the public hearing were also addressed by Russian Ambassador to Serbia, H.E. Alexander Chepurin and Belarus Ambassador to Serbia, H.E. Vladimir Chushev who stressed that the purpose of the Euro-Asian integration is to unite the economies and industries of the countries in the Euro-Asian region, as equal partners and just competition. They stressed that the Customs Union of Belarus, Kazakhstan and Russia dates back to 2005, that the common economic space has been in place since 2012 and 2015 is planned to mark the beginning of the Eurasian Economic Alliance, followed by its expansion and cooperation with other countries.
Eurasian Economic Commission Integration Development Department Director Viktor Spassky and Head of the Eurasian Economic Commission International Cooperation Department Anton Azarov spoke of the dynamics and first results and effect of Euro-Asian integration.
The public hearing was attended by MPs, representatives of the diplomatic corps, state institutions, institutes and NGOs, who took part in the discussion following the panellists' speeches about the potential and perspectives of the integration processes in the Euro-Asian region.
Concluding the public hearing, Foreign Affairs Committee Chairman Milos Aligrudic underlined its significance in view of the fact that it opened talks on the potential, importance and impact of Euro-Asian integration which could, economically, be very important for Serbia.


---
Committees related to this activity
---
Video (1)
Monday, 25 November 2013 | javno slušanje: Integracioni procesi na evroazijskom prostoru i perspektive saradnje sa Srbijom 25.11.2013.
---
---
monday, 29 november
9.00 - sitting of the Committee on Constitutional and Legislative Issues (National Assembly House, 13 Nikola Pasic Square, hall 2)

11.00 - sitting of the Committee on Constitutional and Legislative Issues (National Assembly House, 13 Nikola Pasic Square, hall 2)