National Assembly of the Republic of Serbia / Activities / Activity details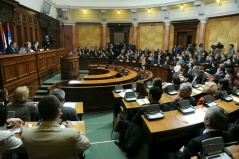 6 March 2012 Participants of the public hearing on "The Use of European Union Pre-accession Funds"
Tuesday, 6 March 2012
Public Hearing Held on Use of European Union Pre-accession Funds
On 6 March, the European Integrations Committee organised a public hearing on "The Use of European Union Pre-accession Funds" (IPA), at the National Assembly House.
---
At the beginning of the proceedings, European Integrations Committee Chairman Laszlo Varga emphasised the importance of the topic after gaining EU candidate status.
The Director of the European Integration Office Milica Delevic said that the candidate status confirmed the correctness of the road Serbia was following and that in future it could use more of the EU pre-accession funds.
Delevic stressed that since the beginning of the transition process Serbia has been granted about 3.5 billion EUR via the pre-accession funds or directly from donor countries. The money was spent on education, agriculture, infrastructure, environmental protection, local development, etc.
The funds that Serbia will in future use from the EU pre-accession assistance will help the reforms in the country, said Milica Delevic.
Deputy Director of the European Integration Office Ognjen Milic stated that 1.4 billion EUR from the EU pre-accession funds have been earmarked for Serbia in the period from 2007 to 2013, but that the funds were expected to be raised in the EU 2012-2020 budget. So far the funds received from the IPA have been used for the realisation of 129 projects aimed at transition support and building of institutions and support of cross-border cooperation projects.
As an EU candidate, Serbia will be able to use the remaining components of the IPA – for regional development, human resources development and rural development, primarily the development of agriculture as a strategically significant field.
Representatives of the Ministry of Environment, Mining and Spatial Planning and Ministry of Education and Science, as well as the Municipality of Arilje spoke about the use of IPA funds.
The participants of the public hearing were greeted by National Assembly Speaker Prof. Dr Slavica Djukic Dejanovic, and on the behalf of the EU Delegation to Serbia they were addressed by the Deputy Head of the Delegation Adriano Martins. The President of the Belgrade Fund for Political Excellence Sonja Licht talked about how important it was to strive to improve living conditions in Serbia and stressed the significance of developing green, clean energy.

---
Committees related to this activity
---
---
wednesday, 29 march
10.00 - the sitting of the European Integration Committee (National Assembly House, 13 Nikola Pasic Square, hall 3)

11.00 - PFG with Israel meets with Israeli Deputy Ambassador to Serbia (National Assembly House, 13 Nikola Pasic Square, hall 2)

13.00 - sitting of the Committee on Administrative, Budgetary, Mandate and Immunity Issues (National Assembly House, 13 Nikola Pasic Square, hall 2)