National Assembly of the Republic of Serbia / Activities / Activity details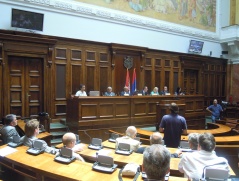 24 July 2013 Public Hearing Held on Morava Canal Waterway Project
Wednesday, 24 July 2013
Public Hearing Held on Morava Canal Waterway Project
Today, the Committee on Spatial Planning, Transport, Infrastructure and Telecommunications organised a public hearing on the Morava Canal Waterway Project at the National Assembly House.
---
Opening the public hearing and greeting the participants, Committee Chairman Dejan Radenkovic said he was pleased the public hearing was met with such a major response from the expert public.
Minister of Natural Resources, Mining and Spatial Planning, Prof. Dr Milan Bacevic said that the project enables Serbia to valorise its geographical position, approach Western and Central Europe and connect with all the parts of the world. The Minister added that this is a multidisciplinary project since it is not merely a waterway – the project, among other things, provides flood defence for about 80ha of agricultural land, enables the production of electrical power in at least five hydropower plants, creates the conditions conducive to different types of tourism, slows down the decline of villages, protects the environment, landscapes and arranges the riverbanks. Bacevic added that the project's significance as a waterway is far from negligible because the costs of water transportation are considerably lower than those of other types of transport. The Minister said that the results of the feasibility study should show whether the project could be realised.
In the course of the discussion, the participants spoke of the costs of canal maintenance, possible erosion problems, project cost effectiveness and when the feasibility study would be completed.
In addition to the MPs, the public hearing was also attended by representatives of the Republic Agency for Spatial Planning, representatives of local self-governments, Inland Navigation Captains Association, professors of the Transportation and Geography University, representatives of Institute of Transportation CIP, the non-governmental sector, public enterprises and the President of the Coordination Team of Macedonia and Serbia Rotary clubs for the public representation of the idea of the Danube-Morava-Vardar-Aegean waterway.
The public hearing was organised with the support of the United Nations Development Programme (UNDP) and the Swiss Agency for Development and Cooperation (SDC), via the project Strengthening the Oversight Role and Transparency of the National Assembly, realised by the National Assembly in cooperation with these two organisations.

---
Committees related to this activity
---
Video (1)
Wednesday, 24 July 2013 | javno slušanje: Projekat plovnog puta Kanal Morava 24.07.2013.
---
---
monday, 29 november
9.00 - sitting of the Committee on Constitutional and Legislative Issues (National Assembly House, 13 Nikola Pasic Square, hall 2)

11.00 - sitting of the Committee on Constitutional and Legislative Issues (National Assembly House, 13 Nikola Pasic Square, hall 2)