National Assembly of the Republic of Serbia / Activities / Activity details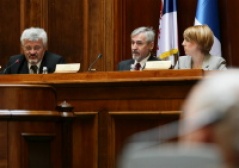 Public Hearing on exercising the rights of refugees and exiled persons in their countries of origin
Monday, 20 June 2011
Public Hearing Held on Exercising the Rights of Refugees and Exiled Persons in their Countries of Origin
On 20 June, at the Small Hall of the National Assembly House, the Committee on Labour, Ex-Servicemen's and Social Issues organised a public hearing on "Exercising the rights of refugees and exiled persons in their countries of origin".
---
The public hearing was organised to commemorate World Refugee Day, and the participants were greeted by Meho Omerovic, Chairman of he Committee on Labour, Ex-Servicemen's and Social Issues.
Commissioner for Refugees Vladimir Cucic said that all the countries in the region should come up with a lasting, transparent and accessible way to reestablish individual rights, because that is the only way this process can be completed. Considering that the refugees' problems have not been resolved even after 20 years since the arrival of the first refugees, Cucic urged the international community to help them realise first of all their property, and then all the other refugee rights. The donor conference which will be held by the end of this year or the beginning of the next one and will be the last collective attempt to resolve the problem in the region, is expected to achieve a lot toward the resolution of refugee issues, concluded the Commissioner for Refugees.
The President of the Coalition of Refugee Associations in Serbia, Miodrag Linta said that the refugees should not bear the brunt of the process of reconciliation and reestablishment of trust between Serbia and Croatia, stressing that reconciliation in the region hinges on the resolution of their problems. He stated that refugee associations have nothing against Croatia's European integration, but that they demand that the European officials insist on Croatia enabling the realisation of all the rights of Serbian refugees before its official accession to the EU.
UNHCR Representative to Serbia Ljubimka Mitrovic said that this international organisation is currently researching the urgent needs of the displaced population in Serbia, stressing that in future UNHCR would focus on the problems of the internally displaced in Serbia. According to the organisation's estimate, Serbia has 97 thousand of these citizens who need help.
The discussion, gathering the representatives of several associations of refugees, displaced and exiled persons, gave voice to various initiatives and suggestions, so Committee Chairman Meho Omerovic announced that the Committee members would vote on the proposed conclusions at the next sitting of the Committee on Labour, Ex-Servicemen's and Social Issues.
---
Committees related to this activity
---
---
friday, 31 march
11.00 - press conference of the MPs of the Democratic Party – DS Parliamentary Group (National Assembly House, 13 Nikola Pasic Square, Central Hall)

12.00 - sitting of the Committee on the Economy, Regional Development, Trade, Tourism and Energy (National Assembly House, 13 Nikola Pasic Square, hall 2)

12.30 - the National Assembly Speaker meets with the Prime Minister of North Macedonia (National Assembly House, 13 Nikola Pasic Square, hall 1)